07-17-2017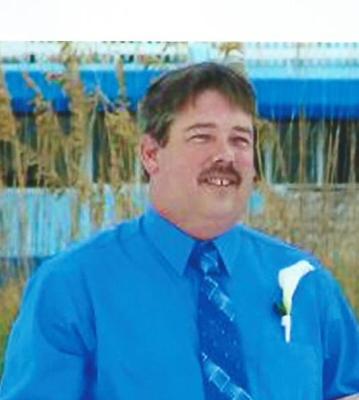 SERVICE SCHEDULE

Mr. Patrick "Pat" Hyder, age 54, Telford, passed away Monday, July 17, 2017 at Vanderbilt University Medical Center.
Mr. Hyder was born in Carter County. He was the son of Carmon Ray & Caroline Sue Calloway Hyder, Johnson City.
He was a member of Lighthouse Baptist Church.
Patrick graduated from Happy Valley High School in 1981 and attended ETSU. He worked at NCI building system in Elizabethton. He was a member of Betsy Town Fife & Drum Corp. He enjoyed kayaking, camping and model building but most of all loved being with his family. He could build and paint anything and loved to talk. He was a member of West Carter County Volunteer Fire Department.
He was preceded in death by his maternal grandparents, Dallas & Mosella Calloway, paternal grandparents, Vance & Ethel Hyder, uncles, Tony Hyder and Bud Hyder, mother-in-law, Genevieve "Jan" Rodifer, and a brother-in-law, Ed Rodifer.
In addition to his parents, survivors include his wife of 30 years, Kimberly Rodifer Hyder, Telford; daughter, Kelly Hyder Casteel and husband Franky, Jonesborough; son, Joshua Patrick Hyder, Jonesborough; father-in-law, John Rodifer; grandchildren, Kaden Casteel and Owen Casteel; brothers and sisters, Tim Hyder (Lisa), Alecia Hyder (Roland) and Chris Hyder (Beth); brothers and sisters-in-law, Bev Wairich (Bill), John Rodifer, Jr. (Linda), Jane Rodifer, Jason Rodifer (Lauralyn) and Debbie Harbach; uncle, Dallas Calloway (Lou); aunts, Diane Elliott, Brenda Hyder and Jeane Hyder; and numerous aunts, uncles, cousins, nephews and nieces.
Funeral services will be conducted 8:00 pm Friday, July 21, 2017 at Dillow-Taylor Funeral Home with Pastor Joe Beaver officiating. The family will receive friends from 6:00-8:00 pm Friday prior to the service.
Interment services will be conducted 11:00 am Saturday, July 22, 2017 at Peoples Cemetery.
Pallbearers will be Josh Hyder, Tim Hyder, Chris Hyder, Franky Casteel, Jason Rodifer, Johnny Rodifer, Caleb Hyder, Gary Jenkins, Rusty Edens, Robert Timbs, Skyler Campbell, Chet Bageant and Steve Hicks.








Would you like to leave an eulogy or condolence for Patrick Hyder? If so, simply click HERE
EULOGIES & CONDOLENCES
07-21-2017
Norma Edens Rowlette
Sue, Ray and all the family. I'm so sorry to hear this sad news. Our families have been connected for many years. My dad's sister babysat for Vance and Ethyl many years ago when Buddy and Ray were little. We went to school with the Hyder boys. And, my mom and Moselle were best friends for years. My sister grew up playing with Sue and they were close friends. I'm 80 yrs. old now and not in good health. We never expect to live longer than our children. I lost my son when he was 49 yrs. old, so I know how devastating this is. I'm so sorry. We now have to cherish the memories. Love and Condolences to the family. Norma
07-21-2017
Sue Rose Hale
So sorry for your loss. Our sympathy Sue Rose Hale, Katie, Kathie and families
07-21-2017
Gerry And Teresa Duffy
We are very sorry for your loss, and we are keeping your family in our thoughts and prayers.
07-21-2017
Darlene Coleman
I am so sorry for your loss. Pat was one of the sweetest guys in our class. We had a lot of good times at Happy Valley. May God comfort you and give you peace. Darlene
07-20-2017
Jennifer Starling - Northeast State
Chris and family, May God comfort each of you during this time of sorrow.
07-20-2017
Erin Mauck
Chris, you and your family will be in my thoughts as you go through this difficult time. I am so sorry to hear of your loss. Erin Mauck, Northeast State Community College
07-20-2017
Frieda Souder
Ray and Sue and all of your family, I am so heartbroken for you. I'll always remember Pat as the young boy who was kind and considerate to all of his family and neighbors as he was growing up in the neighborhood. I'm sure he continued to be the same as he became a man. Please know that I am praying for you and hope that you find peace in knowing that he is with our Father in Heaven. Love to all of you. Frieda
07-20-2017
Kimberly Clingan
Chris, My deepest sympathy to you all on the passing of your brother. You and your family will be in thoughts and prayers. Kim
07-20-2017
Cherie Cooper
Chris, My thoughts and prayers are with you and your family. I am deeply sorry for your loss.
07-20-2017
Ted and Peggy Young
We are so sorry to hear about Pat's passing. I can remember when he was a young child and he and his siblings played with our kids in our back yard. Those were great times. Peggy and I think so much of his parents. May God comfort all of his family, parents and friends.
07-19-2017
Cathy Phillips
Chris and family, I am so sorry to hear of your loss. You all will be in my thoughts and prayers. Sincerely, Cathy Phillips, Northeast State Community College
07-19-2017
Virginia Salmon, Northeast State
I am so sorry for the loss of Pat. I know that so many people are grieving his loss and I will pray for comfort and peace for the family and friends.
07-19-2017
Kim Gant
Chris, I was so saddened to hear of your loss. I pray you and your family will be surrounded by God's comforting love and the peace that only He can give. John 14:27 Sincerely, Kim
07-19-2017
Dickie Renfro
So sorry to hear about the passing of Pat.God bless you all during this sad time. Dickie
07-19-2017
Lori Hampton
My prayers are with you all during this time. So very sorry for your loss...