07-19-2017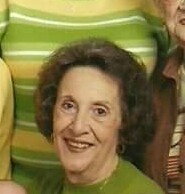 SERVICE SCHEDULE

Mrs. Frances Malone, age 72, Telford, passed away Wednesday, July 19, 2017 at the Johnson City Medical Center.
Mrs. Malone was born in Greene County, daughter of the late Blaine Henley and Louise Smith Rhudy. In addition to her parents, she was also preceded in death by brothers Jimmy Henley, Jeff Henley and infant brother David Henley.
Mrs. Malone was a Christian.
Left to cherish her memory are her children, Becky Carr (Jerry), Donna Malone, Keith Malone (Mitzi), and Jama Curtis (Tony); grandchildren, Autumn Walsh, Coty Malone, Taylor Malone, Hunter Curtis, and Tyler Curtis; great grandchildren, Micah Carr and Caeden Malone; and brother Andy Henley.
The family will receive friends from 5:00–7:00 PM, Friday, July 21, 2017 at Dillow-Taylor Funeral Home.
Graveside services will be conducted 9:30 am Saturday, July 22, 2017 at Maple Lawn Cemetery with Pastor Tyler Dalton and Pastor Rich Murray.
Pallbearers will be Jerry Carr, Tony Curtis, Coty Malone, Hunter Curtis, Tyler Curtis, George Walsh and Danny Saults.








Would you like to leave an eulogy or condolence for Frances Malone? If so, simply click HERE
EULOGIES & CONDOLENCES
07-21-2017
Rita McKee
Frances you will dearly be missed. You were a great person and friend. Becky, Donna, Jama and the rest of the family, praying for each and everyone. I will remember you in my thoughts and prayers. Your mom was a beautiful lady and she will be greatly missed.
07-20-2017
Cecilia Harmon
Francis! I love you my dearest life long friend and you will be missed. Becky, Donna, Jama, Autumn and your families, I am so sorry for your loss. I pray God will grant each of you strength and grace as you mourn your mama. She was a strong and courageous lady. I'm so glad I knew her. I love you all and you are in my prayers. Cecilia
07-20-2017
Lisa Baines Bacon
Cody, I am so sorry for your loss of your grandmother.
07-20-2017
Lisa Baines Bacon
Cody, I am so sorry for your loss of your grandmother.
07-20-2017
Tina & Teresia
Becky, We are praying for you!
07-20-2017
Sue Hensley
May God bless you all and be with you
07-20-2017
Pharis Maloy
I'm very sorry for your loss. Praying God will wrap his arms around you and bring you comfort! With much love, Pharis.
07-19-2017
Gene and Kathey Walsh
So sorry about Frances We fell in love with her the moment we met. She will be missed in our family.. Kathey and Gene Walsh ( George's Parents)
07-19-2017
Sheila (Ford) Blair
Becky, Donna, Keith, and Jama: I am so sorry for your loss. I have so many wonderful memories of our childhood and time spent together. Our parents were such great friends. I always loved your mom; she was a very sweet lady. I pray for comfort as you bid her farewell. Many blessings and love to you all!
Dillow-Taylor is a third generation family-owned business...established in 1929
---
Dillow-Taylor Funeral Home and Cremation Services
P.O. Box 98, Highway 11-E, Jonesborough, Tennessee 37659
Office: 423.753.3821 Fax: 423.753.7409

Hours of Operation:
Monday - Saturday: 8am - 5pm
Sunday: 12pm - 4pm
---