06-06-2017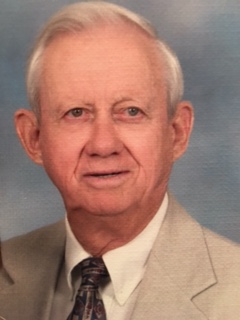 SERVICE SCHEDULE

Dr. (Coach) Jack A. Maxey, age 91, Johnson City, exited his earthly home to enter into the House of the Lord forever on Tuesday, June 6, 2017
The following preceded him in death: parent, Jacob & Belle Maxey, sister Katheryn Maner and brother Robert Maxey all of Maryville, TN, and Mrs. Pat Maxey who was the mother of his three children.
Dr. Maxey was a veteran of World War II and served in the U.S. Navy Medical Corps.
He graduated from E.T.S.U. in Johnson City. He received his master's degree from Peabody College in Nashville and in 1966 he received a Doctorate of Education degree from the University of Tennessee in Knoxville.
He played basketball at E.T.S.U. from 1948 to 1950. He was captain his senior year. He taught and coached baseball and basketball at Washington College Academy and also taught and coached basketball at Erwin High School, Erwin, TN. He began teaching and coaching basketball at E.T.S.U. in 1959. In 1963 he recruited and signed the first African American basketball player in Tennessee, Tommy Woods. He was the freshman coach and assistant varsity coach. In 1969 he resigned from coaching duties and assumed full time teaching duties in the Physical Education Department. He retired in 1981.
Survivors include his wife of 31 years, Ruby Randolph Johnson Maxey, daughter Jan Stubbs, son Alan and his wife Betsy and Mark Maxey all of Cherokee, NC, one grandson Cody Stubbs of Sylvania, GA and step-grandson Brad Ensley of New York.
Coach Maxey donated his remains to the Quillen College of Medicine at E.T.S.U. and therefor will continue teaching.
A memorial service will take place on Friday, June 9, 7:00 p.m. at Central Baptist Church, 300 N. Roan Street Johnson City, TN, where he was a member. Rev. Darryl Blair and Rev. Tim Tapp will officiate.
Special thanks to Jerry Robertson for his assistance and Greg Matney and Ruby Barnett with Mountain States Hospice.
Memorial donations may be made to Central Baptist Church 300 N. Roan Street, Johnson City, TN 37601.







Would you like to leave an eulogy or condolence for Jack A. (Coach) Maxey? If so, simply click HERE
EULOGIES & CONDOLENCES
06-13-2017
Pastor Wayne White
I played tennis with Jack-what a gentleman! You can tell a lot about character on a court and Jack was sterling. I even bought one of those 3 leg stools to sit on and I still have it! May God give you peace as you remember we are in the land of the dying on the way to the land of the living when Christ is your Savior!
06-11-2017
Billy and Cora Sue Pike
We were out of town when learning of Jack's passing. We want to express our sympathies on your loss. Jack was a wonderful and fair minded person who always found the good in others. His competitive spirit was unmatched and we will remember him fondly as a role model for all who knew him.....Billy and Cora Sue Pike
06-09-2017
THOMAS J GREGORY
To the Maxey Family, I was most distressed to hear of the passing of Jack. While we were not friends for very long, it was a distinct pleasure to be with him. My acquaintance with "Brother Jack" was as his teammate on our META tennis team which won the local championship, then the state championship, then came within a hair of winning the Southern Regional Championship. Jack and his partner Clarence were an essential element on this team, helping us win many close matches. I truly enjoyed the times we had together. He was a true gentleman and a good friend. I will miss him. Tom
06-09-2017
Harold and Elfie Kruger
We were so sorry to get your phone call this morning - Maxey was such a good friend and tennis buddy for many years here in Florida. We were so hoping to see you both mid July - just one month from now. Our thoughts are with you and your family - we shall be in touch and call you when we get to NC in July. Again, our deepest sympathy.
06-08-2017
Mike Gibbons
So glad Aunt Ruby found such a great man after uncle Ray passed away. Blessings and peace to the entire family. Be blessed in Jesus.
06-08-2017
Betty Watson
Jan, Alan, and Mark I am so sorry to hear of your father's passing. He was one of the best men I have ever met. He was always so kind to me. Often I think of him being so nice as to let me drive his little blue Fiat. He will always be in my heart and my memories. Love and prayers, Betty Watson
06-08-2017
Dick and Mary K.Slater
Jack was a good, long time friend of ours and will be missed. We had some great times together in New Smyrna Beach and Johnson City. We will still have all these good memories and will see him again someday.
06-07-2017
Gary Martin
So sorry to hear of Coach Maxey's passing. A couple of months ago I, along with several other former players, went to see Coach Maxey. I'm so glad we had the opportunity to visit with him. Prayers to all family members.
06-07-2017
Lewis Houston
It was my privalage to be attending WCA at the time Coach Maxey was there and I don't think I ever met a finer individual. He will be missed by all who came in contact with hum! May God be with his family during this time.
Dillow-Taylor is a third generation family-owned business...established in 1929
---
Dillow-Taylor Funeral Home and Cremation Services
P.O. Box 98, Highway 11-E, Jonesborough, Tennessee 37659
Office: 423.753.3821 Fax: 423.753.7409

Hours of Operation:
Monday - Saturday: 8am - 5pm
Sunday: 12pm - 4pm
---