05-27-2017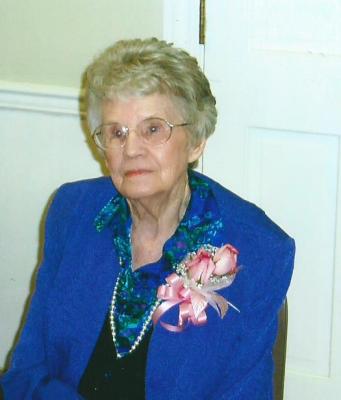 SERVICE SCHEDULE

Mrs. Lou Tipton Shelton, age 100, Jonesborough, passed away Saturday, May 27, 2017 at Four Oaks Healthcare Center.
Mrs. Shelton was born March 1, 1917 in Flag Pond and moved to Washington County in 1948. She was the daughter of the late Calvin Eli & Cordelia Stockton Tipton. She was also preceded in death by her husband of 49 years, Tom Shelton in 1985, two grandchildren, Ronnie Boone and Sara Dawn Gillis, brothers and sisters, Annie McIntosh, Dana Tipton, Ester Rice, Lora Rice, Frank Tipton, Jeff Tipton and Audie Rice.
She was a member of Trinity Baptist Church. She enjoyed gardening, flowers, quilting and crocheting.
She was the mother of seven children, Rosemary (John) Inman, Chattanooga, Robert (Fain) Shelton, Limestone, Aldaree Young, Elizabeth Broyles, Glenda (Freddie) Whaley, Jonesborough, Nancy (Roy) Gillis, Limestone and Tom (Michele) Shelton, Midway; grandchildren, Joy Inman, Mark Inman, Randy Boone, Pat Boone, Thomas Young, John Young, Hope Schmidt, Byrd Broyles, Tracy Flanary, Amy Britton, Abby Borden, Lori Davis, Luke Gillis, Jimmy Ramsey, Renee Ramsey and Kevin Shelton; many great and great-great grandchildren and several nephews and nieces.
The family would like to extend a special thank you to Four Oaks Healthcare Center and Dr. Michael Grosserode, Jr. for their wonderful care.
Graveside services will be conducted 2:00 pm Tuesday, May 30, 2017 at Monte Vista Burial Park with Pastor Byrd Broyles and Mr. Tony Maden officiating. Friends are requested to meet at funeral home by 12:30 pm to go in procession to the cemetery.
Pallbearers will be grandsons and Derek Smith.
In lieu of flowers, memorial donations may be made to Trinity Baptist Church 260 Headtown Rd. Jonesborough, TN 37659 or charity of your choice.



Would you like to leave an eulogy or condolence for Lou Tipton Shelton? If so, simply click HERE
EULOGIES & CONDOLENCES
07-19-2017
Nancy Rice Hope
So sorry to hear about the passing of Lou. I can still remember taking Granny Rice to visit her. She lived a long life with a family who loved her.
06-04-2017
Randy and Eleonora Boone
To the family of Grandma Lou Shelton, Our sincere sympathy and condolences, grandma will be in our prayers. Rest in Peace Grandma.
05-31-2017
Edgar A. Rice
I am truly sorry for your loss, and I pray God will comfort you in the days and weeks ahead. I was in Virginia staying with and taking care of my mom a few weeks ago as we sit with her 27/7. I saw on WJHL television a picture of a lady who just turned 100 years old. I told my mom "look at that lady on the TV. It had Lou's picture and the name Lou Tipton Shelton underneath. Mom recognized the name Lou Tipton and remarked "I use to play with her when we were little girls. Mom (Altha Hensley Rice) and her sister Hamie Hensley Tipton, Lou Shelton Tipton and Audie Tipton Rice all played together back in the 1920's or 1930's. Mom had her 99th birthday on May 9, 2017 and in failing health but can remember things that happened over 90 years ago. We probably won't tell her that Lou passed away unless she asks and she may do just that. I didn't tell her about Audie Rice passing until she asked. Again I am so sorry but your mom, grandmother, great grandmother still has a friend who knew her as a child and loves her to this day. Lou is the last one that I know of that grew up with mom. My mom Altha Mae Hensley was born May 9, 1918 in Flag Pond TN the daughter of Henry and Delie Bailey Hensley. I was with mom again and didn't know of Lou's passing until I returned home. May God bless each of you. Edgar A. Rice Flag pond, TN
05-31-2017
Zinnantis
Thoughts and prayers to the family.
05-31-2017
Junior and Hilda Bryant
My deepest Sympathy to your family. I enjoyed visiting with Ms. Shelton when I went to the nursing home to visit with my mom. Prayers for the family.
05-30-2017
Tracy Correll Baldwin
My heart and mind are with your family . . . wishing you peace and love.
05-30-2017
Mary Milburn
Extending my sympathy to you all. Mama loved her Aunt Lou very much. How blessed you were to have your Mama for 100 years! Olive's daughter, Mary
05-30-2017
Paul and Debbie Masters
Dear Family, We are so sorry for your loss. We pray for God's blessings upon you and that he will give you strength for the days ahead. Paul has many precious memories of Mama Lou. I will miss talking with her at Four Oaks. Love and prayers, Paul and Debbie Masters
05-30-2017
John Young
I am so sorry to read about the passing of your Grandmother. She lived a long life, 100 years. What an accomplishment. There are many people that get to meet this number. All of my love and prayers go out to you and your family!! Goodbyes are not forever, are not the end; it simply means, I'll miss you until we meet again. Love, Kimberly Buck
05-28-2017
David Kirk
Thinking of you and wishing you peace and comfort as you remember Lou Shelton
05-28-2017
Susie Gillis Bennett
Sending my love and prayers to you all . .. I have so many FOND MEMORIES of your Mother. . . love you all special family, dear friends.
05-28-2017
Karen Barr Mountain City; Tn.
Your in my Thoughts & Prayers, Nancy Gillis & Family. Love,Karen