05-17-2017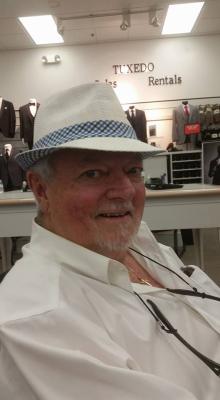 SERVICE SCHEDULE

James "Jimmy" Talmadge Countiss, 67, embarked on his final adventure on May 17, 2017. At the time of his departure, he was surrounded by the love of his family.
He lived his final years in Johnson City, Tennessee, with his loving adventure partner, Terryl Rock. His life had been blessed by three loving daughters: Jennifer Countiss Calkins (husband, Jon) of Snowmass, Colorado; Natalie Countiss Georgieff (husband, Paul) of Seattle, Washington; Katarina Michelle Countiss of Oakland, California; and grandson, Taylor Roy Calkins of Snowmass, Colorado.
James was the son of the late "Tack" Countiss and Dorothy Hutton Countiss of Bristol, Virginia. He is also survived by his brother, Robert Emerson Countiss, of Bristol, Virginia, and a sister, Lisa Marie Countiss, and sister-in-law, Michelle Woolet. He is also survived by his niece, Sarah Grace Countiss, and the three children of his partner, Terryl: Audrey Scyphers, Jacob Scyphers, and Bruce Piercy.
Originally from Bristol, Tennessee, James lived much of his life in Honolulu, Hawaii. He was a lifelong adventurer, summiting mountains, sailing the Hawaiian seas, traveling the world, racing motorcycles and go karts. He attended Hampton Sydney College on a basketball scholarship, American University, Harvard University, and the University of Virginia School of Law. He practiced law in Hawaii for many years, served on the Hawaiian Crime Commission, and was a tenure track professor at the University Of Hawaii School Of Law. He retired in 2013 from his position as a criminal defense attorney in the federal courts, primarily working in Northeast Tennessee.
To list his credentials and accomplishments would be too vast for this space. He was, however, most proud of his daughters and his adventures.
He's memorial service will be held at State Street United Methodist Church on Valley Drive, Bristol, Virginia, at 5:00 on Saturday, May 20. Family will greet friends after the service.



Would you like to leave an eulogy or condolence for James "Jimmy" Talmadge Countiss? If so, simply click HERE
EULOGIES & CONDOLENCES
07-07-2017
Robert Kee Chong
I am sad to have just learned of Jim's passing. He & I met after he represented me in court. We became friends soon after & got to be real good friends during the time he was going thru his very difficult divorce before he moved back to Tennessee. We both shared many of the same interests & had some memorable adventures before he left with his two girls, who always were the center of his world. I'll always remember Jim for his laughter,compassion & upbeat personality, but what I will remember most is his love for his girls & sense of adventure. He was a highly respected attorney here in Hawaii & had many friends here in the islands. I had the honor of meeting his mother (over the phone lol) after he moved back & he came back to the islands one last time a few months after moving & he stayed with us for a few days & he & I had some great conversations while he was here. Sadly, both of our lives were in different orbits after he left & we had lost touch over the past few years. To all of his girls & family; my deepest sympathy for your loss. He loved all of you more than anything else in this world. Keep your love of him close to your heart & he will be with you forever. Aloha Ka Kou, Jim. May you continue your travels & adventures in Heaven like you did here on earth. Rob
05-20-2017
John Barkai
Jim was a great guy, loyal friend, innovative law professor, and outstanding adventurer. We co-taught law school classes together during the magical 1978-1985 years at the University of Hawaii Law School. We did teaching demonstrations at conferences in San Diego, Reno, Minneapolis, and Washington DC. He was a brilliant man, delightful colleague, and the guy you want at your side during peak adventures because the worse it got, the better he liked it. I have wonderful memories of the adventures we shared which I will recall here for his family. He taught me about the great outdoors, introduced me to backpacking, and got me to spend a lot of money at camping stores. We traveled together in England, Ireland, Egypt, Israel, India, and Nepal. We did snow camping in Australia, Washington, Oregon, and Yosemite NP. On every trip, we skied out on cross- country skis with backpacks and tents, spending a few nights in the snow, and usually skiing in one day to the downhill slopes where we skied all day and then put back on our cross-country skis and skied back to our tents in the snow for the night. He was crazy. In Australia, we played in Sydney, backpacked the Blue Gum Forest, watched the full moon rise from on top of Ayres Rock. We wandered the streets of London, sampled the Guinness in Ireland, rode camels by the pyramids in Cairo, visited the Egyptian tombs in Luxor, and sailed the Nile for four days on the felucca (small sailboat) from Aswan to Luxor – sick as dogs because the captain washed the dishes in the polluted river. In Israel, we visited the Wailing Wall, the Dome of the Rock, the streets of Jerusalem, Bethlehem, and Hebron, hiked up the side of and spent the night on the top of Masada, and swam/floated in the Dead Sea. In India, we explored the streets of New Delhi, visited the Taj Mahal, traveled through Kashmir, and trekked through Ladock for a week, just the two of us and a man who spoke no English but had ponies to carry our packs over the 18,000 passes. In Nepal, we visited temples in Kathmandu, rounded up provisions on the side streets, and tracked for another week in the Annapurna Sanctuary. Back in Hawaii, we backpacked Haleakala on Maui; Halape, the Kau Desert, and volcanoes on the Big Island and climbed up Mauna Kea; on Kauai, we both backpacked and at other times kayaked to Kalalau. We backpacked near Lake Tahoe, in Bryce Canyon and Zion National Parks. We canoed a river in Minnesota fighting off the mosquitoes and black flies for the whole trip – another Countiss idea of great fun. Jim started our Easter Sunrise hike tradition, a tradition that has continued for nearly 40 years. Jim, dear friend, I hope your next adventure is every bit as exciting as the rest have been. We miss you greatly. Aloha yourself (as Jim would say) John Barkai
05-20-2017
Brenda Hawkins
Terryl, Audrey, Jacob, Bruce and family members, I am so sorry to hear this. My thoughts and prayers are with you.
05-20-2017
Larry Weddington
I never knew Jim well since I was acouple grades ahead at THS. We were team mates on Coach Troper's basketball team.Jim was so smart and highly competitive, I knew he would go on to greater things. RIP my old high school friend.
05-20-2017
Katarina Countiss
Sometimes, I would preface my emails to my dad by saying hi from your youngest favoritest daughter. I've always felt love and pride from my father. The way he lives his life has been inspiring. Being by his bedside during his final hours listening to Elvis with his sweetheart and my sisters is the most profound experience I've had in my life so far. What a man and what a wonderful world.
05-20-2017
Gina Taylor
Aloha to Jim… Jim was a big part of my life. I first met him in 1980 when he was a professor at the William Richardson School of Law in Hawaii. He was a friend from the beginning. After his first divorce and his round-the-world trip, he came to be more than a friend. He became the father of my children, law partner, and husband. I last saw him at the wedding of our daughter, Lia (now known as Natalie Georgieff). We shared that great event with the Georgieffs, Kati Countiss, Jenny, Jon & Taylor Calkins, , and Terryl Rock and all of the friends and family who were there. Jim was happy to walk Lia down the aisle and would have loved to see his second grandson's birth. Jim loved all of his family and was a sensitive, caring soul. His love of life and adventure was always a big part of our lives. I was lucky enough to be a part of his life and adventure. As he embarks on this new adventure, I know that he takes with him the love of his family and friends. He will be missed and remembered with love. Aloha Jim… Love, Gina
05-20-2017
Joan Sinn
Keeping the entire family in prayers. With sincere sympathy Joan Sinn
05-19-2017
Patsy Owens
Deeply saddened to hear of your loss, Terryl. I'm here for you.
05-19-2017
Sherri Jessee
So sorry for you loss. James was such a sweet man. Sending love and prayers your way.
05-19-2017
Mack Richardson
What a great life Jim lived! Have not seen him since high school, would liked to have known him as an adult. All condolences and hope for perpetual memories.
05-19-2017
Becky Loudermilk
Terryl, I sorry to learn about the loss of your partner.
05-19-2017
Cindy Hawkins
So sorry for your loss!
05-19-2017
Judi & Frank Bowen
Our thoughts and prayers are with all of you during this most difficult time. I know he will be missed by all his friends and family. When a Loved One becomes a Memory-- The Memory then becomes a Treasure With love and caring..