04-25-2017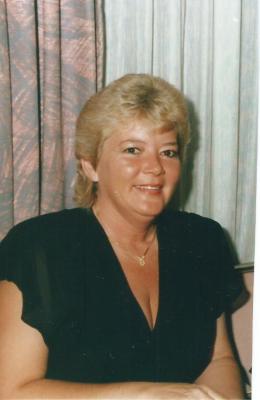 SERVICE SCHEDULE

Mrs. Sharon Dyan Hunt McDaniel, our beloved sister, age 69, went home to be with her Lord, Tuesday, April 25, 2017 at her residence.
Mrs. McDaniel was born in Washington County and daughter of the late Dean & Lena Rupe Hunt. She was also preceded in death by her husband, Ed McDaniel and a sister, Sandra Hensley.
She was a Christian. She loved to travel and crochet.
Survivors include a son, Gary Smith; granddaughter, Savannah Smith; four sisters, Pat Baines (Jimmy), Karen Collins (Jerry), Jan Hall (Henry) and Fran Glass (Kenneth); several nephews, nieces, great nieces & nephews; and she was "GaGa" to Brazen & Avram Glass.
The family would like to extend a very special thank you to her nurse, Anna and therapists, Tami & Travis for their wonderful care.
Funeral services will be conducted 1:00 pm Saturday, April 29, 2017 at Dillow-Taylor Funeral Home with Pastor Joe Beaver officiating. There will be a time of visitation Saturday prior to the service.
Honorary pallbearers will be Rocky Collins, Jason Hall, Chris Hensley, Keith Ellis, Rusty Sells, Austin McLemore and Jamie Baines.





Would you like to leave an eulogy or condolence for Sharon Dyan Hunt McDaniel? If so, simply click HERE
EULOGIES & CONDOLENCES
04-28-2017
Fran Glass
Remembering one of the most precious, thoughtful, and giving person I have ever known. Dyan had a heart of gold and no matter how little she had she was always willing to give. That was the kind of person she was. To remember her and the beautiful smile she had fade away because of all her disabilities and horrible pain she was in just breaks my heart. She is truly a hero in my eyes because even though she couldn't do much for herself she fought to live. She fought the fight. I'll LOVE you forever and ever my sweet sister and you'll ALWAYS be my hero.
04-28-2017
Kim Beaver
My aunt Dyan was one of the most thoughtful people I know. She was always thinking of others. I remember her making Barbie Doll Clothes for my Barbies when I was a little girl. she always called me by my middle name Hope. Her smile made you feel warm, loved, and special. I love and miss you aunt Dyan, but I am so thankful you are no longer in pain. You loved life and now you are living the Eternal Life!
04-27-2017
Jan Hall
My sister, my friend. Dyan had the biggest heart and loved life with a passion. But, her joy of life was taken when she got sick and grew tired. Her love for her family was all that really kept her hanging on for as long as she did and finally just prayed that God would take her home. We were selfish in begging her to fight, but she knew she would not get any better. Thank you God for this precious sister and allowing us to have her for as long as we did. We love you Dyan and will rejoin you one day soon. Thanks for being my loving sister. I will cherish you forever.
04-27-2017
Pat Baines
Dyan, my beautiful,sweet sister, I for the first time since you left us for your eternal home felt peace instead of sadness, when I saw the pain free face so peaceful and beautiful at the funeral home today. Yes, I still cry and miss you and will until we meet again. I love and miss you so much but at the same time I wouldn't bring you back to the suffering you endured for so long even if I could. Love you sweet sister, till we meet again.
Dillow-Taylor is a third generation family-owned business...established in 1929
---
Dillow-Taylor Funeral Home and Cremation Services
P.O. Box 98, Highway 11-E, Jonesborough, Tennessee 37659
Office: 423.753.3821 Fax: 423.753.7409

Hours of Operation:
Monday - Saturday: 8am - 5pm
Sunday: 12pm - 4pm
---