04-16-2017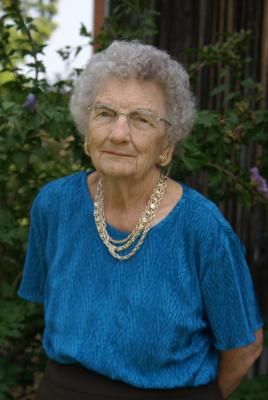 SERVICE SCHEDULE

Mrs. Dorothy Velma Hyder Sherfey, age 97, Jonesborough, passed away Sunday, April 16, 2017, at Life Care Center of Gray.
Mrs. Sherfey was born in Washington County and was a daughter of the late William Joseph and Mary Pearl Williams Hyder. She was a graduate of Johnson City Business School. She retired from Johnson City Spring and Bedding Company, where she worked for many years as a bookkeeper, and was a homemaker.
She was a member of Sulphur Springs United Methodist Church and its Women's Society of Christian Service, which later became the Edna Haynes Circle of United Methodist Women. In later years, she was an active participant in the church's Upper Room Quilters.
In addition to her parents, Mrs. Sherfey was preceded in death by her husband of 58 years, Hal Walker Sherfey; six sisters, Maxie Ipsen, Reta Painter, Lucille "Cindy" Chapman, Grace Rowe, June Hyder and Mary Alta Wampler; and three brothers, Beryl Hyder, Rex Hyder and Harry Hyder.
Survivors include her daughter, Nancy Ann Sherfey Hill, and son-in-law, Lynwood, Jonesborough; granddaughters, Jennifer L. Hill of Jonesborough, Audrey Sinisi (Joe) of Milliken, Colorado, and Pamela Hill McCoy (Brad) of Jonesborough; two great-grandchildren, Matthew McCoy and Marley McCoy, both of Jonesborough; one sister, Eva Rowan, Johnson City; one brother, Daryl Hyder (Pansy), Kingsport; and numerous nieces and nephews.
Funeral services will be conducted at 5:00 p.m. Thursday, April 20, 2017, at Sulphur Springs United Methodist Church with Pastor Joe Barber officiating. The family will receive friends from 3:00-5:00 p.m. Thursday prior to the service, and at other times at the home of Pamela and Brad McCoy, 120 Grayson Drive, Jonesborough. Interment services will follow at Sulphur Springs Cemetery.
Pallbearers will be Matthew McCoy, Brad McCoy, nephews Pat Rowan and Lee Wampler, great-nephews Neil Comer and Rex Comer, and friends and neighbors Joe Hicks and John B. "Bill" Webb Jr.
The family extends special thanks to the staff of Life Care Center of Gray for their love and care, and to the members of the Upper Room Quilters for their love and special friendship.
Memorial donations may be made to the Sulphur Springs United Methodist Church Building Fund, 1432 Gray-Sulphur Springs Road, Jonesborough, TN 37659.







Would you like to leave an eulogy or condolence for Dorothy Velma Hyder Sherfey? If so, simply click HERE
EULOGIES & CONDOLENCES
04-20-2017
Janelle Walker Warden
Nancy and Lynwood, your mom had a good life, may she find peace with her school friends who preceded jer. You have lots of memories to carry you through when sad thoughts enter the days to come.
04-19-2017
Mary Anne Woodward
I loved Aunt Dorothy. She was always one of the dearest, sweetest persons I have ever known. She dearly loved and served her God and her family. The world needs saints like her, and we will all miss her terribly.
04-19-2017
The Newcombs
Dorothy will be missed tremendously but we know where she is - heaven. Our thoughts and prayers are with you all. May God bless you during these difficult days.
04-18-2017
Debbie
Sorry to hear about your loss Here's some comfort. I hope this brings you and the family comfort. When speaking to Martha, Jesus took the occasion to stress the resurrection. (Joh 11:23-27) He was soon to give added meaning to his words. Upon arriving at the tomb or cave where Lazarus was interred, Christ ordered that the stone sealing its entrance be taken away. Then in prayer to his heavenly Father, Jesus showed that one reason these events were taking place was "in order that they [the crowd present] might believe that you sent me forth." (Joh 11:38- 42) Jesus then called the dead Lazarus out of the tomb, and he emerged, undoubtedly to the astonishment and joy of those present.—Joh 11:43, 44. This miracle moved many to put faith in Jesus, but it also caused the chief priests and Pharisees to plot his death. The anger of the chief priests was further aroused when a great crowd of Jews came to see not only Jesus but also the resurrected Lazarus. Because of Lazarus, many Jews were putting faith in Jesus, and so the chief priests took counsel to kill Lazarus also. (Joh 11:45-53; 12:1-11) However, there is no Biblical evidence to the effect that these religious foes carried out their evil plans against Lazarus. This miracle of Lazarus' resurrection served well as part of Jesus' ministry, both to illustrate the power of the Son of God and to increase faith in him and the resurrection. (Joh 11:4, 41, 42) It evidently occurred near the beginning of the year 33 C.E. The Scriptures do not furnish information as to the circumstances, place, or time of Lazarus' death after his resurrection. The Kingdom in the Lord's Prayer will bring about the dead coming back to life here on earth to live forever here on earth.(Matthew 6:9,10; John 5:28,29; Ps 37:11,29). Here's some more comfort you can get my text is 919-561-8472 and my email wanttohelponesthataresad@gmail.com
04-18-2017
Tina Hollandsworth
Dorothy was a fantastic lady and she is an angel in our midst. My prayers and deepest sympathies are with each of you.
04-18-2017
shelia hashbarger
Sorry for the loss of your grandmother Pamela.she was such a beautiful lady.sorry for the whole family.may you all find peace and comfort knowing she's now a angel.