03-25-2017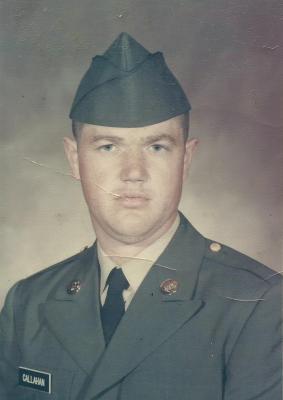 SERVICE SCHEDULE

Mr. Cecil "David" Callahan, Sr., age 69, Chuckey, passed away Saturday, March 25, 2017 at his residence.
Mr. Callahan was born in Unicoi County and son of the late Fred Braxton & Lula Ray Callahan. He was also preceded in death by three brothers, Lewis Callahan, Ralph Callahan and Harry Callahan and a sister, Margaret Rice.
He was a United States Army Veteran having served during the Vietnam War.
Mr. Callahan retired from CSX Railroad. He was an avid sports pilot and member of Tennessee Falling Stars Skydivers. He loved to fly his Piper Tri-Pacer. He enjoyed tinkering on his 66 Chevelle and was a gifted craftsman.
Survivors include his wife, Nanette Keys Callahan, Chuckey; three sons and daughters-in-law, Heath & Becca Haney, Fall Branch, Cecil David, Jr. & Kristi Callahan and Stephen Earl & Jessica Callahan, all of Jonesborough; grandsons, Dawson & Kaleb Callahan; one brother and sister-in-law, Charles & Sue Callahan, Limestone; one sister, Ruth Rohrer, Greeneville; mother-in-law, Bertha Gray Keys, St. Stephen's Church, VA; several brothers and sisters-in-law, nephews, nieces, beloved companion, Dale and many friends.
Funeral services will be conducted 8:00 pm Tuesday, March 28, 2017 at Dillow-Taylor Funeral Home with Pastor Cas Horton officiating. The family will receive friends from 5:00-8:00 pm Tuesday prior to the service.
Interment services will be conducted 1:00 pm Wednesday, March 29, 2017 at Callahan Family Cemetery.
Pallbearers will be Lee Cross, Aaron Henley, Allen Jones, Dwayne Tipton, Buddy Callahan and Josh Callahan.








Would you like to leave an eulogy or condolence for Cecil Callahan, Sr.? If so, simply click HERE
EULOGIES & CONDOLENCES
03-30-2017
Robin Lewis
Nanette and Family, I was so sorry to hear about your loss. You are in my thoughts and prayers. May your memories give you peace and comfort
03-29-2017
Kathy and Gippy Martin
Nanette and family. So sorry. I only found out today. You all will be in our prayers.
03-28-2017
Cheryl & Joe Nickles
Stephen, Dave & family - Please accept our deepest sympathies in the passing of your dad, Mr. Callahan. We will keep you in our thoughts and prayers. If there is anything we can do for you all, please do not hesitate to ask. Again we are so sorry for your loss. God bless and keep you all. Sincerely, Cheryl & Joe Nickles
03-27-2017
Wayde Brown
Sorry for your loss, and also that I will not be able to attained the services. But if David could talk to use he would say that he is in a better place. God Bless all of you and he will comfort you through this time. Wayde
03-27-2017
David Michael Hamilton
My heart goes out to you Nanette and your family. may he rest in peace.
03-27-2017
Jeannie Callahan Tipton
Go rest High on that Mountain Uncle David your work on earth is done May you rest in piece I remember before you went off to war you taking us to the store getting us penny candy may God bless our family
03-27-2017
Randy Ferguson
Condolences to a great Family.
03-26-2017
Robyn Reese
Sending my Love to you Nanette. My prayers are with you and the boys. David was a wonderful Husband, Father and Man. May God hold and comfort all of you. All my love, Robyn
Dillow-Taylor is a third generation family-owned business...established in 1929
---
Dillow-Taylor Funeral Home and Cremation Services
P.O. Box 98, Highway 11-E, Jonesborough, Tennessee 37659
Office: 423.753.3821 Fax: 423.753.7409

Hours of Operation:
Monday - Saturday: 8am - 5pm
Sunday: 12pm - 4pm
---