03-19-2017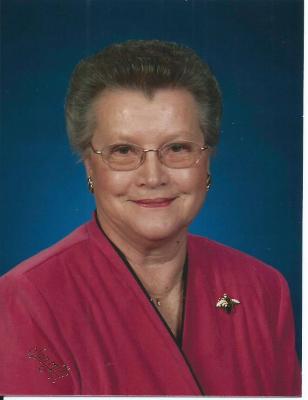 SERVICE SCHEDULE

Mrs. Mary Phillips Ferguson, age 82, Jonesborough, went to be with the Lord, Sunday, March 19, 2017 at Pine Ridge Care Center.
Mrs. Ferguson was born in Washington County and daughter of the late Jake & Annie Casey Phillips. She was also preceded in death by her husband, Rev. Billy Ferguson, brother, James Phillips, sisters, Carrie Holtslaw, Lucille Phillips and Bess Nelson.
She was a member of Lighthouse Baptist Church. Mary was a pastor's wife for 57 years of ministry, an excellent Sunday school teacher, and she loved to sing. She was a member of The Ferguson Family Music Ministry. She enjoyed gardening and her flower gardens.
Survivors include son and daughter-in-law, Steve & Lisa Ferguson, Jonesborough; two daughters and sons-in-law, Patty & Steve Hodge and Karen & Mel Colvard, all of Elizabethton; two sisters, Violet McKee and Ann Rambo (Bud), all of Jonesborough; grandchildren, Holly Wilson (David), Matthew Ferguson (Amy), Jeremy Hodge, Madison Ferguson Michele Robitaille (Mike) and Melanie Williams; great-grandchildren, Kendall and Austin Hodge, Ava and Isabella Ferguson, Katie Wilson, Kelsie, Marcus, and Ethan Robitaille, Mason and Chandler Williams
The family would like to extend a very special thank you to Pine Ridge Care Center, Caris Hospice and Pine Oaks Assisted Living for their wonderful loving care.
Funeral services will be conducted 7:00 pm Tuesday, March 21, 2017 at Lighthouse Baptist Church, Jonesborough, with Pastor Perry Cleek, Pastor Joe Beaver and Pastor Jamie Ferguson officiating. The family will receive friends from 4:00-7:00 pm Tuesday prior to the service and other times at the home of Steve Ferguson.
Interment services will be conducted 11:00 am Wednesday, March 22, 2017 at Mt. Zion Cemetery.
Pallbearers will be Fred Malone, Jim Ferguson, Matt Ferguson, Jeremy Hodge, David Wilson, James McLaughlin, Rodney Metcalf, Jack Holden and Frank Arthur. Honorary pallbearers will be Men of Lighthouse Baptist Church.
Memorial donation may be made to Lighthouse Baptist Church Building Fund 1916 Hwy. 81 S. Jonesborough, TN 37659 or Chinquapin Grove Baptist Church Building Fund 1727 Chinquapin Grove Rd. Bluff City, TN 37618.







Would you like to leave an eulogy or condolence for Mary Ferguson? If so, simply click HERE
EULOGIES & CONDOLENCES
03-29-2017
Leslie Taylor-Tittle
Steve, Lisa, and Family, I am sorry for your loss. Mary and Bill meant so much to me. It was their love and guidance that taught me how much Jesus loves me and led me to accept Jesus as my savior. Mary always smiled that beautiful smile of hers and gave the most comforting hugs. She will be deeply missed
03-22-2017
Kimberly Humphrey
I'm so very sorry for your loss and my prayers are with you all during this time. I used to work at Pine Oaks where I got to meet your sweet mother. Mary.... I will never forget you or that sweet smile. I know you're singing in the choir of all choirs now. It was a great honor getting to know and help you. Love you always.
03-21-2017
Teresa Maples
Patty, Karen & Steve, I was so sorry to hear about Mary's passing. I have always thought a lot of her and your dad and will never forget them. Know that she is in the arms of the Lord now and is in no pain and that you have the promise of seeing her and your dad again one day. I love you all and you are in my thoughts and prayers.
03-21-2017
Gail Vines
Mary and Billy were always a part of my life. To the family, thanks for sharing your family with all of us. Praying for comfort.
03-21-2017
Linda Dellinger
Mary was truly a warrior for the Lord. I will always remember her influence on my family all the years we were at Open Door Baptist. Our loss is Heaven's gain. My prayers are with you all.
03-21-2017
Willis shell
I'm sorry for you're lost pray the lord give u peace and strength thru this time
03-21-2017
Jerry & Shirley Grindstaff
Karen, Steve and Patty Our hearts feel the loss you all share, but we know you rejoice that your moma & daddy are together now and they are happy. Your parents were very special to us and we know that Heaven is sweeter with Mary there. Your mother was a fine lady and a great example of what a pastor's wife should be. We know your heart grieves because moma isn't here with you, but you wouldn't bring her back in the same condition, Just be grateful for all the time you had with her and cherish all the wonderful memories you have. Sorry we couldn't be with you, but Jerry is getting over another torn rotator cuff, but we will continually lift you up in our prayers for strength as you go through the next days. We Love you.
03-20-2017
Debbie Deakins Masters
Dear Family, We are so sorry for your loss. Our thoughts and prayers are with you. Mary and my dad Junior Deakins were first cousins. My mom Frances Deakins and Mary graduated together from Lamar. God Bless You. Debbie Masters and Frances Deakins
Dillow-Taylor is a third generation family-owned business...established in 1929
---
Dillow-Taylor Funeral Home and Cremation Services
P.O. Box 98, Highway 11-E, Jonesborough, Tennessee 37659
Office: 423.753.3821 Fax: 423.753.7409

Hours of Operation:
Monday - Saturday: 8am - 5pm
Sunday: 12pm - 4pm
---