03-06-2017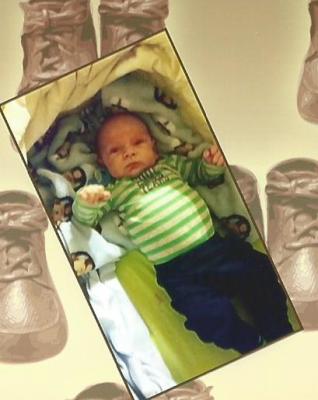 SERVICE SCHEDULE

Infant Charles O'rion James Payne, Telford, passed away Monday, March 6, 2017 at the Johnson City Medical Center.
Charles was born December 13, 2016 in Greeneville, TN. He never let go of his pacifier and was just learning to smile and laugh.
He was preceded in death by his maternal grandfather, Clemmitte Rigsby.
Survivors include his parents, Casey Payne & Brianna Rigsby, Telford; sister, Aubree Payne, Telford; paternal grandfather, Charles Payne, Telford; paternal grandmother, Janie Morrow, Florida; maternal grandmother, Sharon Rigsby, Chuckey; uncles, Randall Miller, Ky Rigsby and Josh Rigsby.
Funeral services will be conducted 7:00 pm Friday, March 10, 2017 at Dillow-Taylor Funeral Home with Rev. Jeannie Callahan Tipton officiating. The family will receive friends from 6:00-7:00 pm Friday prior to the service.
Graveside services will be conducted 12, Noon, Saturday, March 11, 2017 at Greenwood Cemetery.



Would you like to leave an eulogy or condolence for Charles O'rion James Payne? If so, simply click HERE
EULOGIES & CONDOLENCES
03-21-2017
R Mitchell
To the Family of Charles, so very sorry for this loss. Death always saddens, but when it happens to someone so young it is particularly tragic. My thoughts and prayers are with your Family. May the love from your family and friends provide you with a measure of comfort during this difficult time. I pray also that the thoughts given to us all at Job 14:14,15 provide you with assurance that Charles is in God's memory. Deepest Regrets
03-10-2017
Ashley taylor
KC. I'm beside myself hearing about this .I haven't seen u in forever but I'm sorry I couldn't make it.im so sorry for your loss lil brother...Luv you and much condolences. Much sympathy to u and ur wife.
03-09-2017
Brandy Gregg
I am so sorry this happen to u all I loved playing with little man while you all was in the office will be praying
03-09-2017
Mary Jane & Gary Mcmahan
My thoughts and prayers are with you all I pray that God wraps his arms around you all and comfort you in the days ahead. I love y'all and my heart is there with you all.
03-08-2017
Jessee Cole
Words can't describe how sorry I am for the loss of your precious baby boy.
Dillow-Taylor is a third generation family-owned business...established in 1929
---
Dillow-Taylor Funeral Home and Cremation Services
P.O. Box 98, Highway 11-E, Jonesborough, Tennessee 37659
Office: 423.753.3821 Fax: 423.753.7409

Hours of Operation:
Monday - Saturday: 8am - 5pm
Sunday: 12pm - 4pm
---