02-20-2017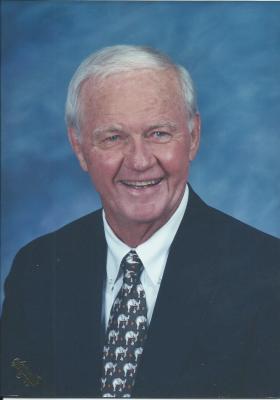 SERVICE SCHEDULE

On February 20th, his 93rd birthday, Dr. Albert Bordelocque McCreary, M.D. completed a long, active and happy life. Born in 1924 in North Carolina, he was the first son of Dr. and Mrs. Albert. B. McCreary of Kingsport, TN and Jacksonville, FLA. Shortly after his birth, the family moved to Jacksonville as his father was appointed the State Health Officer of Florida.

Exploring the woods near his family home in Florida, Dr. McCreary discovered a love of the outdoors that was steadfast his whole life. As a young man, he was an avid Boy Scout earning 42 merit badges that won him scouting's highest honor of Eagle Scout. For his last year of high school, Dr. McCreary attended Emory University at Oxford Academy, finishing the 12th grade in three months. In the fall of 1941, Dr. McCreary began his freshman year of college at Emory University in Atlanta, GA. In June of 1942, his country now at war, he withdrew from college to enter Naval aviation training. Upon completion, Dr. McCreary served his country as a Navy carrier combat pilot in The Atlantic and Pacific Theaters. After WWII, in 1946, he returned to Emory resuming his studies to pursue a lifelong dream of becoming a physician. From Emory, he attended medical school at the University of Tennessee, where his father had received his medical training. Dr. McCreary graduated in 1952 to become the 6th generation physician in his family. He went on to complete post-graduate training in OB/GYN at Univ. of Tennessee, in Memphis.

Following his OB/GYN residency, Dr. McCreary moved to St. Petersburg, FLA. He built a very successful private practice with the Bayfront Gynecological Associates and had a very distinguished career at the Bayfront Medical Center, serving over the ensuing years as Chief of OB/GYN training, Chief of Staff and 8 years on the Board of Trustees. He also served as senior consultant in Gynecology at the Bay Pines Veterans' Hospital and as Chief of Surgery at Ed White Hospital. In 1990, Dr. McCreary briefly tried retirement, building a home and moving to Waynesville, NC to enjoy time with family, the outdoors and to travel. Even with an active and full life in Waynesville, he missed the practice of medicine. In 1993, when ETSU offered Dr. McCreary a post as a professor in the department of OB/GYN., he quickly accepted the opportunity to resume the work he loved. Subsequently, he was named Chief of Gynecology at The Mountain Home VA Hospital. Dr. McCreary finally stepped away from the stirrups in his early 80's, but not before the Family Practice residents voted to honor him in 1996 with the prestigious C.R.E.O.G. Award, the National Faculty Award for Teaching Excellence, an honor he cherished the rest of his life.

After establishing his medical practice in St.Petersburg, never having forgotten his love of flying, Dr. McCreary studied again to become a licensed pilot, obtaining a commercial license with multi-engine and instrument ratings. Many a Sunday afternoon, his small plane could be seen practicing "touch and go" landings at Albert Whitted Airport. He was also an accomplished self-taught golf and tennis player, enjoying both well into his late 80's.

In 1980, Bud, as he was known by family and friends, fell in love with and married Una Carlson Patterson. She has been by his side as his soul mate and best friend for 36 years, up for any endeavor or adventure that the two of them dreamed up. They enjoyed travel around the world, as well as around the US in a well-appointed RV with Mac, their faithful Westie. They played golf and tennis, built several homes in different places as Bud was trying out retirement, always making good friends where ever they went. But after moving to Johnson City, they both felt they had found a home, falling in love with the people and pastoral beauty of the countryside. They also found a church home at Munsey United Methodist Church and was active members of the Philosopher's Sunday School Class.

Bud McCreary will be remembered for his love of family and friends, his dedication to the practice of medicine and of lifelong learning, his quick wit, outrageous sense of humor, and his impeccably organized garage. He was preceded in death by his older sister, Madge McCreary Page and younger brother, Lloyd McCreary. He is survived by his wife, Una Carlson McCreary, his daughter, Dr. Pamela McCreary Battey, son-in-law, Dr. Louis Battey, Jr and granddaughter, Samantha Bishop Battey of Atlanta, GA. With Bud's marriage to Una, his family joyfully expanded to now include her children; Bill Patterson and his wife, Betsy, their sons, Alex and Ryan of Boulder, CO; Jeff Patterson and his wife Paula, their daughter, Hayley of St. Petersburg, FLA and daughter, Stacie Patterson Stuart, her husband, Matt and their daughter, Gracie of Tampa, FLA; Carol Patterson Kirkpatrick and her husband, Tom, their daughter, Maddy, and sons, Will and T.C. of St. Petersburg, FLA. Dr. McCreary is also survived by his sister, Cornelia McCreary Waters of Lakeland, FLA. as well as numerous nieces and nephews. And last, but definitely not least, Bud McCreary is survived by hundreds of golf balls, that he had enthusiastically retrieved from water hazards on every golf course he ever played.

The family will host a visitation Saturday, February 25th, at 1 pm at The Dillow-Taylor Funeral Home, 418 W. College Str., Jonesborough, TN 37651, followed by a memorial service at 2 pm conducted by Rev. Michael Lester.

Honorary Pallbearers: Friday Round Table Lunch Group and The ROMEOS

The family asks in lieu of flowers for a donation to The Women's Fund of East Tennessee, 625 Market Str., Ste.1300, Knoxville, TN 37902 or Washington County-Johnson City Animal Shelter, 3411 N. Roan Str., Johnson City, TN 37601. Thank you.



Would you like to leave an eulogy or condolence for Dr. Albert Bordelocque McCreary? If so, simply click HERE
EULOGIES & CONDOLENCES
03-05-2019
Theresa Zamora
My Deepest Condolences to the family and friends of Dr. McCreary. He was my doctor when I lived in TN.. What an awesome person. I valued his honesty. May he Rest In Peace.
03-06-2017
Mike Reilly
The Reilly family misses all the good times we had with the McCreary's at Lakewood tennis courts and country club growing up. Also miss his partner Dr. Anderson and family. Best to Pam from the 8 Reilly children all in Saint Pete
02-28-2017
Michael & Penny Robbins
We extend our deepest sympathy to the family of Dr. McCreary. My wife, Penny, and I spent many afternoons in surgery with Bud. He was an extremely talented surgeon and friend. We would make a tennis time of 4:00PM at Lakewood Tennis Club and we would finish his 1:00PM surgical case, Bud would fly his plane and be on time for our tennis game at 4:00PM. He was an ACE of a surgeon, an ACE of a friend and an ACE on the tennis court. Our lives were enriched by knowing him.
02-25-2017
Jim and Judy Baxter
We are so sorry for your loss. Please call on us if we can help you in any way.
02-24-2017
The Jackson, Brown, and Patterson Families
Please except our very sincere condolences in the lost of Bud. This is a missing part now that can't be replaced only remembered and be thankful for the opportunity that you had to know him. God Bless and keep his family safe and happy!
02-23-2017
Farrell Gosnell
We are so sorry for your loss, Bud was indeed a great person, he will be missed by all that knew him.
02-23-2017
LES BRYANT
BUD WAS MY FRIEND. AS TWO OLDTIME DOCTORS WE SHARED OUR DISMAY AT THE EVOLUTION OF HEALTHCARE INTO A LABYRINTH OF REGULATIONS PROMOTED BY GOVT MEDDLING, INSURANCE PROFITEERS AND PHARMACEUTICAL GOUGERS!! BUD ENJOYED MEMORIES OF PATIENTS FOR WHOM HE MADE A POSITIVE CHANGE IN THEIR LIVES, BUT WE BOTH NEVER FORGOT THOSE PATIENTS WHOSE DISEASES WE COULD NOT CONQUER. HAVING GONE TO JOIN GOD'S GREAT CLINIC, BUD LEFT BEHIND A BETTER WORLD BECAUSE HE LIVED HERE.
02-22-2017
Jason and Kathy Hatjioannou
We will truly miss our dear friend "Dr. Bud". He was such an amazing man and we always loved waving at him sitting on his back porch on #4. Our deepest sympathies to Una and all his family. God Bless him always. Love, The Hatjioannous
02-22-2017
carol and bedford transou
There was no one any nicer or better person than Bud McCreary. He became a dear friend after moving to Johnson City. So very sorry we will not be at the services - we are in Franklin, Tn. for the funeral of my nephew - who died on Feb. 2nd and to be with my older sister whose son is my nephew. We will miss the wonderful service at Munsey - where Bud and Una always sat on the row before us at the 8:30 service. We are so glad that we knew and loved Bud. Carol Transou for Bedford and Carol Transou
02-22-2017
Phyllis M. Taylor
Una, Sorry, I was not able to be in contact over the last several years, but treasure the good memories of those years during the 1990's when we all worked together at the Dept OB/GYN,ETSU. Please know that you are in my prayers. Phyllis
02-22-2017
TOM CORUM
It was my happy privilege to know 'Dr. Bud' for only a few years. How I wish I could have known him for much longer! Our world is poorer because of his passing but we who knew him are richer because of his presence in our lives. May 'Dr. Bud's' memory be eternal and may The God of all consolation strengthen Una and her loved ones during these sad days.