02-20-2017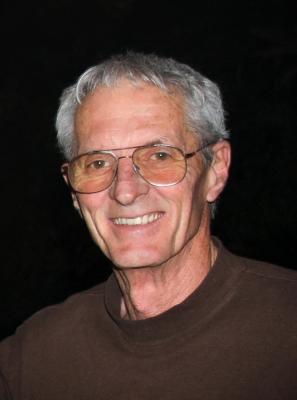 SERVICE SCHEDULE

Mr. Jackie J. Bookout, age 77, died Monday, February 20th at Lakebridge Nursing Home following a long battle with Alzheimer's.
Jackie was born in Ottowa, Illinois and raised in Etowah, Tennessee. He was the son of the late James and Jacqueline Bookout. He was the second eldest of their eight children. He was a member of Sulphur Springs United Methodist Church. In addition to his parents, he was preceded in death by parents-in-law Stanley and Fanny Coles, brothers-in-law James Wallace and John Coles, nephews John Coles and Ira Curtis.
Jackie was a 20 year retired Air Force veteran including a tour of duty in Vietnam. He received many honors including the Commandants Award and the Meritorious Service Award. Following his retirement from the Air Force, Jackie operated his own business in Etowah, Bookout & Sons Auto Body Shop. When he closed his business and retired, he and his wife, Avril, moved to Jonesborough.
He will be lovingly remembered by many including his wife of 57 years, Avril Coles Bookout; his daughter, Serena Bookout Crowder & husband Jeff; twin sons, Philip Bookout & wife Jeanie, Paul Bookout and wife Morri. Grandchildren: Chelsea Crowder Talbert & husband Chris, Charlotte Crowder, Aaron Bookout, Olivia Bookout, Isabelle Bookout and Madalyn Bookout. Brothers: James Bookout & wife Pat, Tommy Bookout & wife Judy, Robert Bookout & wife Libby. Sisters: Mary Pickel & Lawrence, Martha Sisson & husband Vestal, Sally Kindle & husband Rich, Blanche Wilson & husband Chris. Sisters-in-law Doreen Wallace and Margaret Coles. Numerous cousins, nieces and nephews.
The family will receive friends from 4:30 pm to 6:00 pm Saturday, February 25th at Sulphur Springs United Methodist Church, Jonesborough, Tennessee. The funeral service will follow at 6:00 pm officiated by Rev. Joe Barber.
A gathering of family and friends and interment in Etowah, Tennessee will be at a later date.
In lieu of flowers the family asks that donations be made to the Children's department or Youth department of Sulphur Springs United Methodist Church, 1432 Gray Station Sulphur Springs Rd, Jonesborough, TN 37659.



Would you like to leave an eulogy or condolence for Jackie J. Bookout? If so, simply click HERE
EULOGIES & CONDOLENCES
02-24-2017
Dave & Margo Hogan
What a wonderful man! For several years Jackie was like a member of our family. In his retirement years Jackie was our "handy-man" around the Hogan house. Everything from building an arbor for Margo, to helping Dave start his old pick- up truck, Jackie was always there to help embellish our lives, not only with his manual assistance but with his kind Christian demeanor. Again, What a wonderful man! We loved him. Dave & Margo Hogan Waynesville, NC
02-24-2017
Shirley & TR Moates
So sorry for your loss. You have a very special family. Jackie is leaving a tremendous legacy of respect and admiration. His life impacted many and his testimony for Christ was firm. He has been and will continue to be missed in the little town of Etowah. Our prayers and thoughts are with you all. In Christ Love, Shirley and TR
02-24-2017
Betty Fuevhes
James and I send our love to the Bookout,Crowder,and Wilson families. May God's grace surround you all,
02-23-2017
Frank Studley
Jackie & Avril, were stationed at RAF Welford, Newbury England.. As part of that Air Force group- Jackie was an Air Policeman. We served with him. We were fortunate to see Jackie and Avril, at our every two year Air Police reunion. Jackie was a proud and strong man !! Peace be with you and your family, Jackie....
02-23-2017
Terry McCollum
I was honored to have served under Jackie Bookout while serving in the Air Force in England, 1968 to 1972. Jackie was not only my sergeant but my friend. He was a mans' man, a family man, just a great guy who I had the pleasure to serve with and know, he was a good guy. God Bless this man and his family now and may the good sergeant rest in peace.
02-22-2017
Charlotte &Howard Dunbar
Avril & family; Was so sorry to hear of Jackies passing from Beverly Campbell today. We are unfortunately OOT in Florida on vacation unable to return in time for funeral. Both Howard & I were very fond of Jackie & enjoyed his friendship. He was a hard worker, talked often about his family of which he was so very proud of, & knew so much about everything. Our love, prayers, & sympathy are with you.
Dillow-Taylor is a third generation family-owned business...established in 1929
---
Dillow-Taylor Funeral Home and Cremation Services
P.O. Box 98, Highway 11-E, Jonesborough, Tennessee 37659
Office: 423.753.3821 Fax: 423.753.7409

Hours of Operation:
Monday - Saturday: 8am - 5pm
Sunday: 12pm - 4pm
---