01-19-2017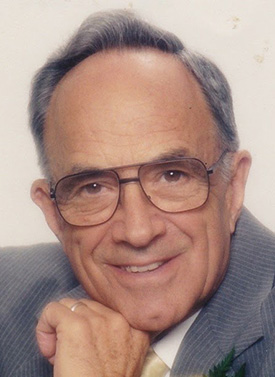 SERVICE SCHEDULE

Dr. Leonard Ginther Wymore, 95, passed away on January 19, 2017, to be with his Lord and Savior whom he served for over 75 years.

Leonard was born on September 10, 1921, in Bartley, Nebraska. He graduated from Manhattan (Kansas) Christian College and attended Butler University School of Religion. He was honored with a Doctor of Laws from Kentucky Christian University and the James A. Garfield Award from Emmanuel Christian Seminary for recognition of his outstanding service and leadership to the Christian community.

He served a number of congregations in Kansas and Indiana in the beginning of his ministry career. At Standard Publishing Company (1956-63), he served as editor of The Lookout magazine and director of the National Christian Education Convention. From 1963-86 he was director of the North American Christian Convention (an annual gathering of evangelical Christians). During this time, Leonard led in the founding of the Religious Conference Management Association, a vital multi-faith organization whose members are responsible for managing religious conventions across the nation. In retirement Leonard continued to write, consult, and pursue his love of golf and fly fishing into his later years.

Leonard is survived by his loving wife of 71 years, Thelma (Haas); three children: Kathy (Bud) Downs, Don (Donna) Wymore, Fred Wymore; five grandchildren: Christopher (Astrid) Downs, Brian (Anne) Wymore, Lori Downs Fenn, Bradley (Felicia) Wymore, Eric Downs; and five great-grandchildren: Milo and Sydney Fenn, Sebastian and Annika Downs, and Molly Wymore.

Condolences may be sent to Thelma Wymore, 2012 Sherwood Drive #512; Johnson City, TN 37601. In lieu of flowers, memorial gifts may be made to the Leonard & Thelma Wymore Scholarship Fund at Emmanuel Christian Seminary at Milligan College, TN 37682.

A memorial service will be held at Hopwood Christian Church, Milligan College, TN, Saturday, February 18, at 2:00 P.M.



Would you like to leave an eulogy or condolence for Leonard Ginther Wymore? If so, simply click HERE
EULOGIES & CONDOLENCES
There are no comments at this time...
Dillow-Taylor is a third generation family-owned business...established in 1929
---
Dillow-Taylor Funeral Home and Cremation Services
P.O. Box 98, Highway 11-E, Jonesborough, Tennessee 37659
Office: 423.753.3821 Fax: 423.753.7409

Hours of Operation:
Monday - Saturday: 8am - 5pm
Sunday: 12pm - 4pm
---