01-19-2017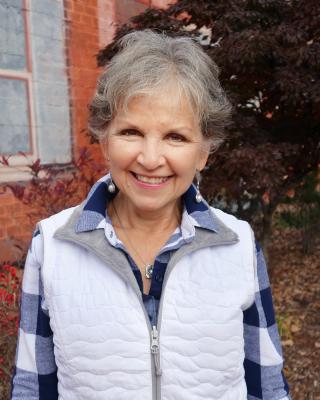 SERVICE SCHEDULE

Carol Yoder Chastain of Johnson City, TN, passed away January 19, 2017, at home among family.
Carol was a vibrant, full-of-life, inviting, and caring soul. She had a passion for faith, family, and friends. Carol was a follower of Christ. She loved the Lord and His word, and lived out the Christian life to its fullest. Christ was her focus, which was clear in all she said and did. The Cross defined and explained her life. She was more concerned with Him and His ways than anything else. As a result, Christ and His love permeated in and through her to everyone she knew. She had a special affinity for Israel and the Jewish people. She made several trips to Israel over the years and enjoyed the land and the people.
Carol also had a passion for healthy living. She was raised on a farm where she and her family grew and raised everything they ate. She was an amazing chef, and an avid gardener. She appreciated nature and loved to walk and hike.
Carol was a loving wife, wonderful mother, and a mentor and friend to many. She was an RN and received her Nursing degree from The University of Southern Mississippi. Carol taught numerous women's bible studies and volunteered in several capacities over the years. She was an active member of Grace Fellowship Church for the past 15 years. She also worked part-time at the Natural Foods Market.
Carol was truly amazing. She was a reflection of Christ's love. She had a servant's heart and was a wonderful blessing to all who knew her. Her life was a reflection of the fruits of the spirit – love, joy, peace, patience, kindness, gentleness, goodness and self-control.
Carol was born in Reedsville, PA. She was the daughter of the late Newton and Mary Yoder of Lancaster, PA. Carol and David were married in Gulfport, MS. They lived in Mississippi, Arkansas, Colorado, Texas, and Germany, but have resided in Johnson City for the past 15 years. Those left to cherish her memory are her husband of 36 years, David Otto Chastain; one daughter, Emily Gail Chastain and husband Paul; one son, Jefferson David Chastain and wife Evan; three sisters (the late Patricia Yoder, Mary Knepper, Linda Webster), three brothers (Bob Yoder, Harold Yoder, Jerry Yoder) and their families and numerous friends.
Carol Chastain's family will receive friends from 1:00 pm until 2:00 pm Monday at Grace Fellowship Church in Johnson City where Dr. Larry Nees will officiate a 2:00 pm graduation service.
In lieu of flowers, Carol requests memorial contributions to Grace Fellowship Church, 2314 South Greenwood Drive, Johnson City, TN 37604, or the Friends of Israel Gospel Ministry, P.O. Box 908, Bellmawr, NJ 08099.
Carol was humbled by all of the love and support she received during her illness. The family would like to thank Dr. Devapiran Jaishanker, Mountain States Hospice, her neighborhood, and the many supportive family and friends for all their care and kindness.



Would you like to leave an eulogy or condolence for Carol Yoder Chastain? If so, simply click HERE
EULOGIES & CONDOLENCES
01-24-2017
Jill Rutherford Smith
Carol was (and still is) such an inspiration to me in so many ways! Mostly, she inspired me to be a better Christian and relish my walk with Christ. She always made it look easy and I so admired her faith and love for our Lord. David- I can never thank you and Carol enough for all the love and friendship you showed my Dad and Ginger through the years. Heaven has gained 2 beautiful souls this past year, although for those of us left behind, it's heartbreaking. I am so sorry that Will and I couldn't be at Carol's funeral but please know we are praying for you and your family during this very tough time.
01-23-2017
Linda G. Adams
Dr. Chastain and Family, I know that the memories you have are immeasurable, and I hope these memories, along with God's grace and love, sustain and comfort you in the days to come. Carol was always such a sweet and kind person to me whenever/wherever I saw her, which is the way I will remember her. There is a song that says "God only cries for the living." I truly believe that as Carol is truly rejoicing with God in heaven now. Love and prayers to all.
01-23-2017
Tommy &Ava Tipton
Dr.Chastain we are so very sorry for you and your family.We have been Praying for you all.Carol touched my heart the first time I met her,such a loving and caring person she was.I will miss her for awhile then be together with her & Jesus for ever! If you need any thing let Tommy or me know! Love and Prayers; Tommy And Ava
01-21-2017
Mel and Joyce Zimmerman
Dear David and family, We are friends of Harold and Jane Yoder. We had been praying for Carol, and now rejoice for Carol, and can only imagine the joy she is living!! Please know, that our prayers continue for you and your family. Lovingly in Christ, Mel and Joyce Zimmerman
01-21-2017
John Lester
Dear family , I knew Carol from her time working at Tuesday Morning. She was a beautiful person who lived her life to the glory of God. She never forgot a friend and was a beautiful example of her Christian faith. My prayers are that you will always know God's peace and His and Carol's love will sustain in the days ahead.
01-21-2017
Charlene and Darrel Varner
David, Please know that you and your family are in our thoughts and prayers. It has been a pleasure knowing you and Carol through your precious Mom and Dad. I visited with your Mother this morning!Our love in Christ!
01-21-2017
Mary Nees
Every word in this brief summary of Carol is true. Oh! How she will be missed by so many who loved her. It is so difficult to imagine she is gone from us, but now her life has been completed in the One she long trusted; and in whom she is safe and completely well. Oh come Lord Jesus!
01-21-2017
Dennis Irwin
My sincere condolences to the entire family, hearing of Carol's passing has left me to treasure our talks about the Lord. If I can only be as good of servant to the Lord as Carol, my life will also be a success. She always told me she was ready to go home to heaven when God called. She was selfless, bold, joyful, strong-willed and a living testimony to Christ. I admired her in so many ways and I'm going really miss seeing her on her walks in the neighborhood. She would tell me, continue the good fight and tell someone today about Jesus. She lives today in paradise with the Lord, I will see her again!
01-20-2017
Gina McGee Williams
Dear Dr. Chastain and family, Please know you all are in my thoughts and prayers during this time. May GOD give you the strength and courage during these next few days, months ahead and my you feel HIS comfort and the love of others with you. Love and prayers, Gina M. Williams ETSU Pediatrics