01-11-2017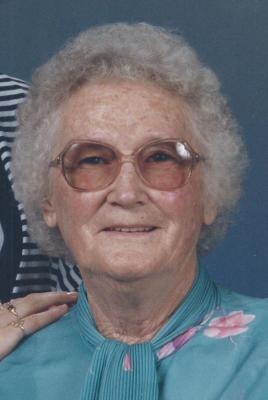 SERVICE SCHEDULE

Mrs. Lunnie Broyles Ratliff, age 96, Jonesborough, passed away Wednesday, January 11, 2017 at Erwin Health Care Center.
Mrs. Ratliff was born June 23, 1920. She was the daughter of the late Sevier and Minnie Rogers Broyles. She was also preceded in death by her husband of 55 years, Thurman Buck Ratliff, her grandson, Randy Fender, son-in-law Holye Fender, brothers Henry Broyles, Willard Broyles, Willie Broyles, and sister Lilly White.
Mrs. Ratliff was a housewife and enjoyed sewing, working in the garden, going to church, and visits with her family. She worked at Dunbar Pepper Mill until it closed.
She was a charter member of Nolichuckey Baptist Church where she supported the church until she became unable to attend.
She is survived by daughters Jessie Fellers (Bud), Bonnie Fender (Carroll), Clara Joann Fender, sons, J.C. Ratliff (Bertha), Donald Ratliff (Mamie); granddaughters, Penny Murray (Rich), Annette Buchannan (Mike), Karen Ratliff, Michelle Phillips (Scott), Deidre Donahue (Jeremy), grandsons, Marvin Ratliff (Lena), and Tim Fellers; great grandchildren, Brandon Fender, Josh Murry (Amelia), Noah Murry, Parker Buchanan, Natalie Murry, Hannah Buchanan, Sadie Buchanan, and Christine Fender; one great great grandson Ollie Murray.
Our family wishes to thank the staff of Erwin Health Care for the excellent care and love they have given our mother and the courteous way in which they have worked with our family during her illness.
Funeral services will be Friday, January 13, 2017, 7:00PM at Dillow-Taylor Funeral Home with Pastor Michael Rice officiating. The family will receive family and friends from 5:00 to 7:00 PM prior to the services.
Graveside services will be Saturday January 14, 2017, 10:00AM at Seviers Cemetery. Pallbearers will be Marvin Ratliff, Bud Fellers, Carroll Fender, Scott Phillips, Mike Buchanan, Brandon Fender, and Josh Murray.



Would you like to leave an eulogy or condolence for Lunnie Broyles Ratliff? If so, simply click HERE
EULOGIES & CONDOLENCES
01-15-2017
Jolene Walters
Prayers for you at this time. God is Good.
01-13-2017
Angie Belt Crawford
I am very sorry for your loss. She was a very loving lady. I remember her smile and kindness growing up and seeing her at papaw Henry's. My thoughts and prayers are with you all.
01-13-2017
Mark and April Jones
We're so sorry for your loss. May God bless and comfort you and your family.
01-13-2017
Vicki Shell
Joanne and Brandon, I am sorry for your loss. I am also sorry I could not be there in person to give you both a hug. Peace to you.
01-12-2017
Randy and Linda Slagle
So sorry for your loss.you are in our prayers,If you need anything give me a call.
Dillow-Taylor is a third generation family-owned business...established in 1929
---
Dillow-Taylor Funeral Home and Cremation Services
P.O. Box 98, Highway 11-E, Jonesborough, Tennessee 37659
Office: 423.753.3821 Fax: 423.753.7409

Hours of Operation:
Monday - Saturday: 8am - 5pm
Sunday: 12pm - 4pm
---