12-20-2016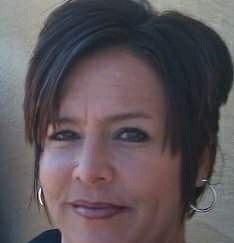 SERVICE SCHEDULE

Mrs. Rita May Ervin, age 47, Kingsport, passed away Tuesday, December 20, 2016 in the comfort of her home.
Mrs. Ervin was born in Charlottesville, VA and daughter of the late Vernon Jessee & Nancy Lynn Buckles Jessee of Castlewood VA.
She worked for AT&T.
Survivors in addition to her mother, include a son, Joshua Devan Jones; daughters, Brittany Nichole Bush and Kimberly Gregg (Christopher); sister, Tina Marshall Culbertson; brother, Vernon "Chris" Jessee; grandchildren, Braden Shawn Sullivan, Ashlynn Taytum Mae Bush and Willow Nevaeh Gregg.
Funeral services will be conducted 3:00 pm Monday, December 26, 2016 at Dillow-Taylor Funeral Home. The family will receive friends from 1:00-3:00 pm Monday prior to service. Interment services will follow at Fairview Cemetery.
Pallbearers will be Chris Jones, Anthony Bush, Adam Culbertson, Randy Jones, Josh Hampton and Rick Culbertson. Honorary pallbearers will be Nicholas Jones and Sean Simms.



Would you like to leave an eulogy or condolence for Rita May Ervin? If so, simply click HERE
EULOGIES & CONDOLENCES
12-27-2016
Jay River
We are sorry to hear about your loss. Sickness has robbed us of our loved ones resulting in their death. May these scriptures bring you all comfort. Isaiah 33:24 promises ,"And no resident will say: "I am sick." The people dwelling in the land will be pardoned for their error." When Jesus was on earth he healed the sick and raised the dead. At John 11:25 "Jesus said to her: "I am the resurrection and the life. The one who exercises faith in me, even though he dies, will come to life." What a wonderful hope we can look forward to and may God strengthened you in the days ahead. JR
12-26-2016
Beth Tester
So sorry for your loss. Rita was a great co-worker and all around good person.
12-26-2016
Amanda Sexton (Rose)
Rita was a beautiful lady and always had a kind word or compliment for everyone. I worked with her at AT&T and was happy to have gotten to know her. It is a sad loss and she will be much missed daily here. I wish peace to all her family and my condolences are with you all....Amanda
12-26-2016
Nancy Fair
I worked with Rita at ATT.. she was on my team when Amanda Rose was our Manager. She was very sweet. I had talked to her just a few days before she passed. I am so sorry for your loss. She will be missed.
12-25-2016
Whitney Davis
She was such a blessing to me. She was a precious lady and one of the strongest women I knew. I will forever miss her we had so much fun together and so many laughs. My heart and prayers are with the family. May Gods peace comfort you like no other can.
12-23-2016
Pat Hale Carter
So very sorry for your loss. Rita was a sweet lady, we grew up in church together. May God comfort each of you. Love, Pat Carter
12-23-2016
Tammy Lanham
Rita was a wonderful person. She will be deeply missed by all. She was a great co-worker and would have done for anyone. My thoughts and prayers are with you and your family. With deepest sympathies, Tammy Lanham
12-23-2016
Wendy Leedy
I am so sorry for your loss. I worked with Rita at AT&T and she was always seen with a smile on her face. She will truly be missed. Your family are in my thoughts and prayers!
12-23-2016
Gail Taylor Austin
I'm so sorry to hear this
12-23-2016
Karen(Korn) Anderson
My prayers and thoughts have been with the family of Rita from the time we were informed of this tragedy. May God wrap his arms around the family and keep them strong through this very sorrowful time. God Bless You all and Rita Rest In Peace
12-22-2016
Tammy Buchanan Powers
I went to school with Rita . And she will be greatly missed. My thoughts and prayers go out to the family.
12-22-2016
Marvin & Pam Cain
Tina and Family We are praying for you and the family. Pray that God will give you all the strength day by day just keep your trust in him. She was a very sweet person.
Dillow-Taylor is a third generation family-owned business...established in 1929
---
Dillow-Taylor Funeral Home and Cremation Services
P.O. Box 98, Highway 11-E, Jonesborough, Tennessee 37659
Office: 423.753.3821 Fax: 423.753.7409

Hours of Operation:
Monday - Saturday: 8am - 5pm
Sunday: 12pm - 4pm
---