11-14-2016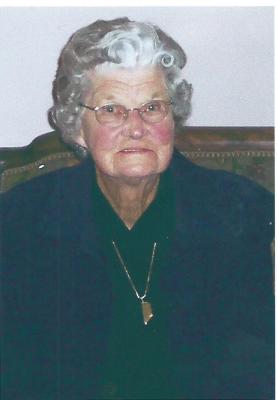 SERVICE SCHEDULE

Mary Evelyn Ferguson Miller, age 95, Kingsport, formerly of Telford, passed away Monday, November 14, 2016 at Johnson City Medical Center.
Mrs. Miller was the daughter of the late Courtney & Clara Ball Ferguson. She was preceded in death by her husband, John H. Miller, two sons, Franklin Daryl and Clarence (Pete) Miller, three brothers, James, C.M.(Junior), and Howard Ferguson, and one sister Nell Kyker.
Mrs. Miller is survived by five daughters, Jean Dean (Ronnie), Carolyn Helton (Donnie), Sharon Hammons (Larry), Peggy Miller (Jim), and Terry Widner (Glen), twelve grandchildren, twenty-one great-grandchildren, one great-great-grandchild, and several nieces and nephews.
The family will receive friends Friday afternoon, November 18 from 4:00-7:00 p.m. at Dillow-Taylor funeral Home in Jonesborough, and other times at the homes of any of the daughters. Graveside services will be Saturday, November 19 at 11:00 a.m. at New Victory Baptist Cemetery.
Grandsons will serve as pallbearers.
The family would like to express their gratitude to Dr. Gretchen Bowling and staff, Johnson City Medical Center, section 2300, and Mountain States Home Care.
Those who prefer memorials in lieu of flowers may make contributions to New Victory Baptist Church Cemetery in care of Starlet Cochran, c/o New Victory Baptist Church, 527 Conklin Rd., Jonesborough, TN 37659 or Baptist Bible Hour, Inc., Box 17037, Cincinnati, Ohio 45217-0037. Please write "for WHCB Radio Broadcast" in memo section of check.



Would you like to leave an eulogy or condolence for Mary Evelyn Ferguson Miller? If so, simply click HERE
EULOGIES & CONDOLENCES
11-18-2016
David and Pat Boshears
Carolyn, We were so sorry to learn of the death of your Mother. Even though she lived a full life, there will be an empty chair at the table during this holiday season. Our deepest sympathy is extended to you and may you feel the peace of God during this time of loss. Love, David and Pat
11-18-2016
Jerry Broyles
To: Carolyn and Jean I would like to express my condolence to you and your family on the death of your mother. You have been very fortunate to have her for many years. Losing a parent is a very sad time in ones life. I hope you both are doing well and healthy. You are in my thoughts and prayers. Jerry Broyles
11-18-2016
Jeanie Kyker
You are in my thoughts and prayers. Your mama was one of the sweetest ladies I ever knew. She will be greatly missed.
11-17-2016
Katherine Carroll
Carolyn sorry to about your mother passing. Love and prayers Cedar View Independent Meth. church
Dillow-Taylor is a third generation family-owned business...established in 1929
---
Dillow-Taylor Funeral Home and Cremation Services
P.O. Box 98, Highway 11-E, Jonesborough, Tennessee 37659
Office: 423.753.3821 Fax: 423.753.7409

Hours of Operation:
Monday - Saturday: 8am - 5pm
Sunday: 12pm - 4pm
---