10-25-2016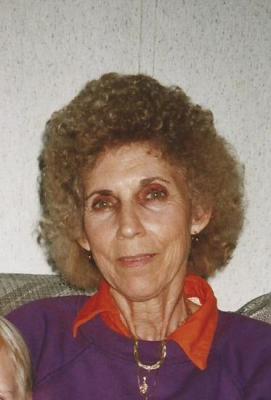 SERVICE SCHEDULE

Mrs. Bette Ruth Higgins Bailey, age 82, Jonesborough, passed away Tuesday, October 25, 2016 at Four Oaks Healthcare Center.
Mrs. Bailey was born and raised in Erwin, TN and moved to Jonesborough after her marriage. She was the daughter of the late Claude & Bessie Elizabeth Harris. She was also preceded in death by her husband, Earnest Bailey, nine brothers and sisters.
She was a member of Cherry Grove Baptist Church.
Mrs. Bailey retired from David Crockett High School after 35 years of service. Bette loved working around the students, she said they kept her young. She loved baking and sharing her pies and cakes with friends and family.
Survivors include two daughters, Claudia Beth Donald and her husband Larry Mark and Karen Joann Henson; four grandchildren, Jeremy Henson, Jordan Henson, Matthew Donald and Summer Donald; sister, Dixie Higgins Killen; and several nephews, nieces and friends.
Funeral services will be conducted 8:00 pm Thursday, October 27, 2016 at Dillow-Taylor Funeral Home with Rev. Reece Harris officiating. The family will receive friends from 6:00-8:00 pm Thursday prior to service.
Interment services will be conducted 11:00 am Friday, October 28, 2016 at Cherokee Baptist Cemetery.
Pallbearers will be family & friends.



Would you like to leave an eulogy or condolence for Bette Ruth Higgins Bailey? If so, simply click HERE
EULOGIES & CONDOLENCES
10-30-2016
Leslie Taylor Tittle
I want to say Ms. Bette will truly be missed. She was a kind soul and helped me daily during lunch at Crockett. I was on reduced lunch and we had to show a card. At that age kids are insecure so instead of others seeing my card I'd pay full price. She took me to the side and told me she'd ring it up from then on and I didn't have to show my card. She also would have my burnt pizza I liked and my peanut butter cup already on my tray waiting for me. My mom worked with her some when she'd sub for someone and she helped mom get used to things there. Besides all of that kindness she was always there to help me when I was having a bad day. Ms. Bette gave me great advice and lifted my spirits. I've thought about her often through the years and now she's with Jesus continuing to be an angel as she was for me on earth. For her family I'm sorry for your loss. I know you're proud of the life she lived. She made a huge difference in mine. I will always miss her.
10-30-2016
Judy Austin Hensley
I am so sorry for the loss of your mother,Claudia.
10-28-2016
Susan Hensley
Karen,so sorry for the loss of your Mother. she was such a wonderful person..prayers for you and your family.
10-28-2016
Phoebe Peterson
Aunt Betty was always so happy, down to earth and beautiful. She gave of herself to everyone and enjoyed life. I hope to do as well. She's with Earnest now and many others. We'll all miss her. A light has gone out.
10-27-2016
Geri Bailey. Amy and Bryson
Words cannot begin to express the sadness we feel in our heart with the passing of Bette. She was a wonderful, caring, and thoughtful person, always going out of her way to stay in touch. She loved her precious family, her church, and her many friends. We love you, Bette, our Special Aunt and Sister-in-law. My brother loved you dearly, so now you have join him in Heaven. To Claudia and Karen, and the Grandchildren, we love you and are sorry for the loss of this precious loved one.
10-26-2016
Pam Coggins
Betty was always so kind to me. If I saw her out and about grocery shopping, etc. she went out of her way to speak to and always ask about my parents before their passing. Praying for the family.
Dillow-Taylor is a third generation family-owned business...established in 1929
---
Dillow-Taylor Funeral Home and Cremation Services
P.O. Box 98, Highway 11-E, Jonesborough, Tennessee 37659
Office: 423.753.3821 Fax: 423.753.7409

Hours of Operation:
Monday - Saturday: 8am - 5pm
Sunday: 12pm - 4pm
---