10-06-2016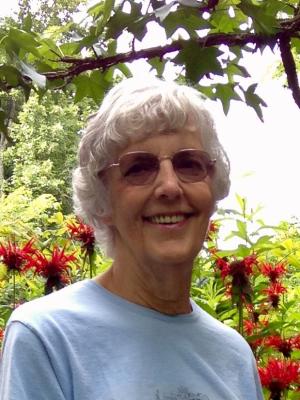 SERVICE SCHEDULE

Mrs. Patricia O. Smith, age 77, Jonesborough, passed away Thursday, October 6, 2016 at Johnson City Medical Center.
Mrs. Smith was born in Poughkeepsie, New York, the daughter of the late Victor F. and Lewella Booth Ogden. In addition to her parents she was also preceded in death by her husband Joseph Smith, a daughter Tara Smith, and a brother Vince Ogden.
Mrs. Smith was an active member of First Christian Church, Johnson City. She was also a member of the International Chapter PEO Sisterhood, the Tuesday Garden Club of Jonesborough and the World Wide Pressed Flower Guild.
While living in New York, Pat drove a school bus for many years. She turned her lifetime interest of drawing and creating works of art into a pastime business in the 70's. In 1983, Pat left the Hyde Park School District to peruse her career as a full time graphic artist. This is when she started her current business, Sonshine Crafts. Her artwork included calligraphy and pressed flowers and ink sketches.
Survivors include two daughters, Kelly Melisa Waterman, and Nicole Tancredi, five grandchildren, Jamin Waterman, Lindsey Bunnell, Jared Waterman, Rebekah Waterman, and Gianna Tancredi, brothers, Ken Ogden, Kevin Ogden, and one sister Lois Lazzopina.
Memorial service for Mrs. Smith will be held on Sunday October 9, 2016 2:00PM at First Christian Church, Johnson City, with a Visitation to follow. In lieu of flowers, donations can be made to the Alzheimer's Association or Johnson City Medical Center ICU.



EULOGIES & CONDOLENCES
10-15-2016
Marcia Johnson Valdatta
I was a childhood classmate and friend of Pat's in Pleasant Valley, NY. About four years ago Pat was visiting her daughter in Poughkeepsie and she got in touch with me and I made arrangements with several other childhood friends to meet for lunch. We had a wonderful time reminiscing about those days, Pat's wonderful birthday parties, and her artistic skill even back then. My sincere sympathy to Pat's family.
10-13-2016
Joan Cody
My thoughts & prayers are with you & your family.
10-12-2016
Barbi Greene Evans
Keeping the family in my thoughts and prayers.Take care of yourselves
10-11-2016
Pat and Bob Shirley
To Kelly and Nicole and families...So upset to hear of this. How often we have thought of visiting Pat and never got around to it. We will miss your Mom greatly. She was a very loved and special part of the Shirley's lives.
10-10-2016
Dinise Mustain
I never met Pat in person,but I knew her through the World Wide Pressed Flower Guild. She corresponded with me when I first started pressing flowers. Her encouragement was much appreciated. She was a gifted artist and kind soul.
10-10-2016
Theresa Hammons - Town of Jonesborough
We were so sad to hear about Pat's passing today at the McKinney Center in Jonesborough. Pat shared her artistic talent with us each year as a vendor for Fine Art in the Park. She also volunteered this past summer during Jonesborough Days and showed young people how to make pressed flower bookmarks. We were so grateful to know her.
10-09-2016
Sonja Fox
Always friendly and smiling..She will be missed by many of us...but..we know she has gone with God. .My sympathy to the family....
10-09-2016
Molly Catron
Pat was a dear, gentle soul. She always had a smile and a kind word just when you needed it. Her presence will be missed but her spirit will alway be among us. Sending love and prayers.
10-09-2016
Dee Maggio
There is no greater loss than that of a Mother, and for it to be so sudden makes it more so. I am so very sorry for your loss and I'm sure you've heard many, many people share what you two knew all along. How very special, caring, talented and what a kind soul your Mother was. I knew her from her beautiful pressed flower craft (of which i have several), Jonesborough Storytelling Guild, and the Monday Club of Johnson City. What a blessing that you were able to spend some time with her before she passed and what a loss, not only to you, but to the many, many lives she touched so gently. My thoughts and prayers are with you both and your families and regret I was unable to attend the services due to ill health.
10-09-2016
Janet Hartmann
I first met Pat Smith in connection with her artwork - sensitive, delicate creations using pressed flowers. I was captivated by the beauty of her work and the idea that all of nature was real, physical material for her creations. Later, when she became a member of the PEO Sisterhood, I got to know the person behind the artwork. And, no surprise, she was a wonderful, sensitive, creative person - a joy to get to know. I will miss her very much.
10-09-2016
Rosemary Farmer
Pat, I still can't believe you have left on your final journey. You were my friend for such a few short months, but you made an impact on my life. I will miss you, but not forever - only until I see you again.
10-09-2016
Sharon and Larry Thompson
A lovely lady we will surely miss. She always had a winning smile and cared so much for others. A great teacher in sharing her talent with us who were not so talented. I loved visiting her flower garden.
10-08-2016
Betty Green, WWPFG
I'm so sorry for your loss. I knew Pat through the WWPFG. She was my mentor when I first joined the Guild in 2010. She was a great friend. She was always quick to respond to my questions and was very generous with her lovely flowers. She had the heart of an angel. While I will miss her, I am comforted by her great faith. We will meet again some day.
10-08-2016
Martha Snyder
I meet Pat through art and craft shows, she was a wonderful and gracious lady. She was always very kind to me. She will be missed.
10-08-2016
Lisa Pasto-Crosby
Please accept my condolences on the loss of Pat. I worked closely with her on the website of the World Wide Pressed Flower Guild, and she was a wonderful, generous friend.
10-08-2016
Bill & Dolly Granata
If you know Pat Smith you have known unconditional kindness & love. If your paths have crossed with Pat, you have known unconditional kindness & love. We were so fortunate to have known such a lovely lady...and she was "a lady". We are so glad Pat took the time to reconnect with us when she was up here in Sept. We had a wonderful visit with her, and she looked so happy & healthy. Pat always took time to visit us every time she was back in our area. Pat was a wonderful artist. Everything she created turned out so beautiful including her three daughters. And she was so proud of them all. Pat took such loving care of Joe and his mom, Ruth. Also her own mom and dad, Lewella & Vic. We will miss Pat so much. We will have to be satisfied with all our beautiful memories we have of a beautiful lady with a beautiful smile. We love you Pat.
10-08-2016
Mary Lou Fritz
I have never met Pat in person, but I knew her through the World Wide Pressed Flower Guild. She was a wonderful artist and so generous and kind to me as a newer member. And I knew of her strong faith. I am so sorry for your loss. I have read many many posts yesterday and today from around the world written by members our our guild that are deeply saddened. I do hope wonderful memories of Pat will comfort you all very soon. May God Bless, Mary Lou Fritz
10-08-2016
Sue Morris WWPFG
My thoughts and prayers go out to Pat's family and loved ones, that, with God's help, they may come to find comfort and peace among the memories.I met Pat through the Guild and grew to love her. She was one of the warmest, most sharing and caring people you could ever hope to meet. I was caregiver for my elderly parents so had had a lot in common and I drew on her counsel and strength particularly in the last months of Dad's life. I will forever miss her compassion and warmth.
10-07-2016
Joan & Robert Guggenheim
We have known Pat since the 60's and she will truly be missed by us and many others. Pat was a loving and giving person who always went out of her way to help others. She always had a smile and a kind word for everyone. Pat we will miss you so much but our Lose is heaven's gain. You will have an eternity of beautiful flowers to surround you.
10-07-2016
Pam Haun
Pat was a beautiful woman, both inside and out. I met her several years ago when she owned the Dulcimer shop in Jonesborough. She was a very talented artist and a Blessing to every one who knew her.
10-07-2016
Barbara Powell, GFWC of TN Chaplain
On behalf of GFWC of Tennessee, please accept our sincere sorrow on the passing of Patricia. She was a valued member of the GFWC Monday Club of Johnson City, which is a member of the GFWC of TN. She will be missed. Barbara Powell
10-07-2016
Jacki Harrington
Please accept my deepest condolences on Pat's passing. I met Pat through the World Wide Pressed Flower Guild about 14 years ago. She was one of the kindest, most generous people I know. She will be missed! I hope your wonderful memories of Pat will bring you peace and strength now and always.
10-07-2016
Tami
Pat was a dear sweet friend. I love her and cherish all of the special pieces that I have from her. I am thankful to have all of the pressed flowers that she made for me last year when my Mother died. I will treasure them forever. I will miss her terribly however, I know where she is and I will see her again.