09-19-2016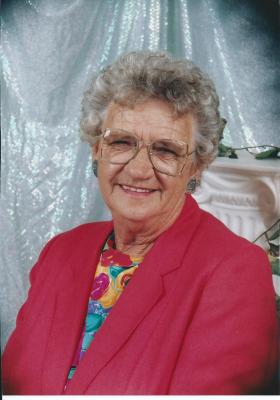 SERVICE SCHEDULE

Mrs. Peggy Joyce Cloyd, age 85, Jonesborough, passed away Monday, September 19, 2016 at Johnson City Medical Center.
Mrs. Cloyd was born in Washington County and daughter of the late Ed & Maude Wiseman Treadway. She was also preceded in death by her husband, Billy Jack Cloyd, an infant son, Billy Jack Cloyd, Jr. and a sister, Naomi Gillette.
She was a charter member of Lighthouse Baptist Church, where she very active in all church activities. She loved her church family.
Survivors include a daughter, Tammy Cloyd, Jonesborough; son and daughter-in-law, Randy & Shelia Cloyd, Johnson City; grandson, Greg Cloyd (Rebekah); two great-grandchildren, Raina Cloyd and Harley Cloyd; sister, Wanda Yates; sister-in-law, Barbara Briggs (Dwight); special nieces, Cathy McCoy (Joe), Sandy Slark (Wayne), and Beth Tipton (Scott); nephews, Ronnie Luttrell, Johnny Gillette (Carolyn), Delbert Gillette (Martha) Ricky Briggs, Scotty Briggs (Anita), Tony Briggs (Tisha), and Mitchell Briggs, Jr. (Monoco); several special great nephews and nieces; and special little pal, Bubba.
The family would like to extend a very special thank you to her special care-givers, Sue Kyker, Lisa Autrey, Susan Arrowood and Marlene Gillette, loving church family at Lighthouse, friends at Lone Oak Christian Church, Dr. Rachel Monderer & staff, Mr. James Goss and nurse Sherri, Jim Haire with physical therapy, Vanderbilt University Medical Center, Dr. James Netterville and nurses Jill Gray and Georgette Smiley, Amedisys Home Health, Health Homecare Medical Equipment of Erwin, Washington County EMS, Quillen Rehab of Johnson City, Franklin Woods Hospital, Johnson City Medical Center Skilled Nursing on 3rd Floor & Observation Unit and Waters of Johnson City.
A Celebration of Life service will be conducted 7:00 pm Wednesday, September 21, 2016 at Lighthouse Baptist Church with Pastor Perry Cleek and Pastor Joe Beaver officiating. The family will receive friends from 2:00-4:00 pm & 5:00-7:00 pm Wednesday prior to the service.
Interment services will be conducted 12:00 PM Thursday, September 22, 2016 at Telford Cemetery.
Pallbearers will be Wayne Slark, Joe McCoy, Scotty Briggs, George Campbell, Craig Ford and Tommy Honeycutt. Honorary pallbearers will be Monty Treadway, John Gillette, JR Gillette, Rick Chantry, George Jaynes, Ed Graybeal, Ricky Briggs, Raymond Francis, John Glaze, Floyd Briggs, Brooks Garland, Dwight Briggs, Larry Phillips, Jay Wheeler, Scott Tipton, Ronnie Luttrell, Mitchel Cloyd, Men of Lighthouse Baptist Church, and Employees of Jonesborough.
In lieu of flowers, memorial donations may be made to Lighthouse Baptist Church Building Fund P.O. Box 665 Jonesborough, TN 37659.



Would you like to leave an eulogy or condolence for Peggy Joyce Cloyd? If so, simply click HERE
EULOGIES & CONDOLENCES
10-11-2016
Sue Guinn Legg
Tammy, They announced your mom's passing last night at the Jonesborough Board of Mayor and Aldermen. Broke my heart. Heaven has gotten another treasure and the world is a little less rich. Loved her dearly. What a grand friend she was to my mom and our whole family What a wonderful reunion the two of them must be having. I am so grateful for the lifetime of loving care you gave her. Payers for you all.
09-25-2016
Elizabeth Bunton Smith
Tammy, just saw your wonderful mom's obituary in today's paper. So sorry for your loss. Mom was reminiscing about her time in school with her. Praying for you!
09-24-2016
Mary Lillian Wiseman
To the entire family, our sincere condolences. Peggy was a wonderful aunt to me and my children, and she will be missed. Heaven has a new angel.
09-22-2016
William
I am very sorry to hear of Peggy's passing. I cut trees for her for many years. She is a wonderful lady and she will be missed. My family will keep your family in prayer.
09-21-2016
J.Shannon Zukas
Thoughts and prayers for the family,as she was a special lady and friend to a lot of people.
09-21-2016
Carolyn Privette
Tammy i dont know where to start.Oh how i loved your mom she was one of the best people i have ever known.And you were so good to her and i love you for that.She will be missed so very much.If i can do anything for you please let me know
09-21-2016
Ann Byrd Ragan (Terry)
Dear Tammy,Randy and Shelia, So sorry for your loss your mom was a blessing to many.Sorry I won't be able to be there today I am fighting blood clots,a baker's cyst and heel spurs as well as my other health issues.You all and the family are in our thoughts and prayers may God be with you all. Tammy get my number from Mom or Dad and call me sometime love you all Ann
09-21-2016
Karen Routh Peoples
Dear Randy, Tammy and family I am so sorry to hear of your Mom's passing. What wonderful memories I have of both your Mom and Dad. Both were such grand folks and it was always fun to come to your house. I remember the good old days of "Aggravation and come on 6". My thoughts and prayers to out to you all. Karen, Shane, and Erika Peoples
09-21-2016
Janette Walters
Prayers for the family. We had some good times in the past with Peggy. Janette Walters. Brenda McKee and the Walters Family.
09-21-2016
Angie Moyers
So sorry for the loss of a dear friend. She was like a second mom to me. My thoughts and prayers are with you Tammy and the family.
09-20-2016
Paul and Debbie Masters
Dear Family, We are so sorry for your loss. It was a blessing to have been Peggy's cousin. May God Bless You. Love, Paul and Debbie Masters and Frances Deakins
09-20-2016
Jane Peters
Tammy; I am sorry for your loss. Your Mother loved you very much. You were and always will be a devoted daughter to her.
09-20-2016
Stanley and Cassie Bacon
Tammy and Randy; We are in Florida but our hearts are there with you, and all the family. Peggy was a wonderful christian lady who had a love for everyone. We will cherish her friendship forever. Our deepest sympathy. We love you both.
09-20-2016
Mr & Mrs Randall Salts & Katelyn
Tammy We was so sorry to hear about your Mom you was always good to her. If we can do anything let us know you and your Family are in our thoughts and prayer's during this time. Randy, Deadra, Katie
09-20-2016
Sherry Hubbard
One of the sweetest ladies I have ever met. Her smile always brightened my day. Her life was a true testimony of a Christian. She will be greatly missed but she is in her Heavenly home now with no more pain and one day we will see her again and be together forever. Praying for peace and sweet memories for the family.
09-20-2016
Kenneth and Peggy Byrd
We will miss Ms. Peggy. She has been healed of her sickness. She is free of earthly cares and pain. She fought a long hard battle. Our Love and prayers go out to the family. Kenneth and Peggy Byrd
09-20-2016
Cheryl Bacon Morris
Peggy was one of the most wonderful women I've ever known. My thoughts and prayers are with her sweet family, I love you all. Earth's loss is definitely heavens gain.