09-15-2016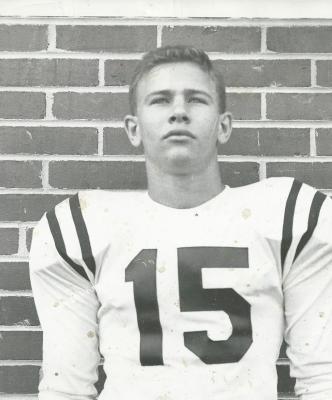 SERVICE SCHEDULE

Nicholas George Demma "Nick" (77) of Jonesborough, TN passed away on September 15th. Nick was born in Bristol, VA in 1938 to the late George and Mildred Demmo. Upon graduating from High School, Nick worked as a police officer while continuing his education to a Juris Doctorate from Stetson University in St. Petersburg, Florida. Nick was a trial lawyer until his retirement in 2005 where he was licensed to practice in TN, Fl, and CA. Upon his retirement he moved back to TN where he enjoyed spending his free time coaching middle and high school football.

Nick is survived by his two daughters and their spouses, three grandchildren, and his loyal side kick Buddy. The family requests that in lieu of flowers or memorial donations that you volunteer your time at a local charity or youth organization.

The family of Nicholas George Demma would like to thank Jonesborough Family Medicine, Larry Thompson Farm, and Dillow-Taylor Funeral Home.



Would you like to leave an eulogy or condolence for Nicholas George "Nick" Demma? If so, simply click HERE
EULOGIES & CONDOLENCES
02-26-2017
Jolene Larimore
dear nick's family, i am so sad to learn nick has left us. i am so sorry i did not check earlier on him. i was always thinking i needed to see if he was still kicking. just missed him by months. we went to stetson together. he talked me into joining him in california and we practiced law together.we were very best of friends. he helped me a lot. the world'is just a sadder place without thinking nick is out there somewhere. love to all. great man. great friend.
09-22-2016
Dimas & Karla
We met Señor Nick back in 2000 He was such a nice man. In everyway blessed my family he became an angel to all of us always making us laugh with his jokes, his advices to my daugthers i thank God for putting him in our lifes we will always remember Señor Nick with that smile and those jokes. It make us very sad the fact he is not here with us anymore, that will not hear him laughing and those histories that he would always talked about. Rest In Peace Señor Nick. We love you Im sorry for the family for your lost. God will be givimg you strength
09-22-2016
Sam Demma
To the family of Nick Demma: I was so saddened to learn of Nick's passing. My heart sank. We are related on both my mother and father's side of the family. During the late forties Nick and his dad George came up here to Worcester, Massachusetts to visit my mom Kaliopi and my dad, Christo Demma who operated a grocery store and wouldn't you know instead of going outdoors to play Nick dutifully helped my dad in the store, he was that kind of guy. This small act of kindness endeared him in the hearts of my parents forever. In recent years, Nick and I had many long telephone conversations in which I grew to know Nick as a compassionate and loving person. I will really miss him. Sam Demma Worcester, Ma.
09-21-2016
Melinda Copp
I enjoyed getting to know Nick and discussing his vision for his building in downtown. He would always insist on buying me lunch and brought our office bagels and treats on numerous occasions along with roses from his garden. So sorry for your family's loss. Melinda Copp with Main Street Jonesborough
09-21-2016
Dr. William Kennedy
My thoughts are with you on the passing of Mr. Demma. I spoke with him on several occasions about the restoration of his building in Jonesborough's Historic District and always enjoyed our conversations. Sincerely, Bill Kennedy, Chair of the Jonesborough Historic Zoning Commission
09-18-2016
Mr & Mrs Wilson Wainright
Our prayers are with you and your family at this difficult time. We are very sorry for your loss.
Dillow-Taylor is a third generation family-owned business...established in 1929
---
Dillow-Taylor Funeral Home and Cremation Services
P.O. Box 98, Highway 11-E, Jonesborough, Tennessee 37659
Office: 423.753.3821 Fax: 423.753.7409

Hours of Operation:
Monday - Saturday: 8am - 5pm
Sunday: 12pm - 4pm
---

| | | | | |

Copyright ©2019 Dillow-Taylor Funeral Home and Cremation Services. All Rights Reserved.
Programming & Web Development by .