09-16-2016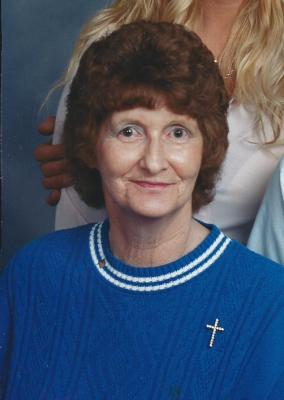 SERVICE SCHEDULE

Thelma Wanda Knight, Telford, passed away Friday, September 16, 2016 at Durham-Hensley Health and Rehab.
Mrs. Knight was born in Washington County, daughter of the late Hartsell and Dorothy Cousin. She was also proceeded in death by sisters Mildred Bailey and Ruth Dykes; brothers Arthur Cousin and Richard Cousin.
She was of the Baptist faith.
Left to cherish her memory are her husband, Clifford Knight, daughter, Sherry Rhoton and husband Danny; sons Terry Knight and Jason Knight; grandchildren Britany, Chrissy, Tara, and Heather; sister, Imogene Street, and brother Larry Cousin.
The family will receive friends from 12:30 -1:45 PM Sunday, September 18, 2016 at Dillow-Taylor Funeral Home. Graveside services will follow at 2:00 PM at Fairview Cemetery with Reverend Jack Dykes officiating. Pallbearers will be Sharrell Dykes, Dustin Wolfe, Danny Rhoton, Andy Story, Tyler Briggs, and Kevin Hyatt.
The family extends special thanks to her sister, Imogene Street, Diane Bailey, Paula Dickenson, Smokey Mountain Hospice, and Durhan-Hensley all for their loving care to Mrs. Knight.
In lieu of flowers, donations to the family can be made in care of Dillow-Taylor Funeral Home P.O. Box 98, Jonesborough, TN 37659.



Would you like to leave an eulogy or condolence for Thelma Wanda Knight? If so, simply click HERE
EULOGIES & CONDOLENCES
09-19-2016
Dianne & Larry Cousin
Sherry,and family so sorry for your loss, if it weren't for your mom I wouldn't of met Larry she was our match maker. She was a great person even tho we live far away and only see u guys once in a few years, you all are in our hearts. Love you all
09-17-2016
Viola keys
Sherry I am so sorry to hear about the death of your mother . Love you Viola
09-17-2016
Sharrell Dykes
Sherry I am so sorry. I really thought the world of Wanda. She always made me and Sara feel like we her her family. I will miss her so bad.just know she is ok and with all of her family in heaven.
Dillow-Taylor is a third generation family-owned business...established in 1929
---
Dillow-Taylor Funeral Home and Cremation Services
P.O. Box 98, Highway 11-E, Jonesborough, Tennessee 37659
Office: 423.753.3821 Fax: 423.753.7409

Hours of Operation:
Monday - Saturday: 8am - 5pm
Sunday: 12pm - 4pm
---