08-31-2016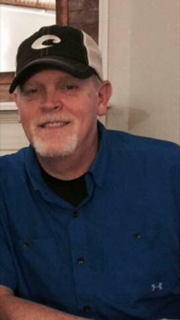 SERVICE SCHEDULE

II Timothy 4:7-8, I have fought a good fight, I have finished my course, I have kept the faith: Henceforth there is laid up for me a crown of righteousness, which the Lord, the righteous judge, shall give me at that day: and not to me only, but unto all them also that love his appearing.

T.J. Crawford age 45, Jonesborough, entered into Heaven Tuesday, August 30, 2016 at Johnson City Medical Center.
Ralph Thomas Crawford, Jr. was born in Washington County and son of Ralph Tom & Sarah "Ernie" Roberson Crawford, Jonesborough.
He was of the Christian faith. To know T.J. was to love him. He loved Tennessee Volunteers, Dallas Cowboys and Atlanta Braves Baseball. Words could never express the love he had for his family and friends, but he proved it to everyone through his actions every single day.
T.J. worked for Energy Solutions as a Control Room Operator.
In addition to his parents, survivors include his wife and love of his life, Pam Casey Crawford, Jonesborough; son and best friend, Spencer Crawford & fiancé, Ashton Earwood; daughter and baby girl, Alexis Crawford; beloved sister, Shannon Crawford, Chuckey; mother-in-law, Trula Belle Casey; lifelong best friends, Bill Johnson and Chad Scott; many aunts, uncles, cousins, nephews, nieces and extended Cornhole Family.
The family will receive friends from 6:00-9:00 pm Friday, September 2, 2016 at Dillow-Taylor Funeral Home.
Funeral services will be conducted 2:00 pm Saturday, September 3, 2016 at the Dillow-Taylor Funeral Home with Rev. Darrell Slagle and Pastor Mike Rice officiating. Interment services will follow at Bumpass Cove Cemetery.
Pallbearers will be J.J. Durham, Jeremy Smith, Bill Johnson, Chad Scott, Tyler Shipley, Cody Buck, Jessie Hilton, Drew Williams, Phil Stafford and Terry Lynn Johnson. Honorary pallbearers will be his Co-Workers.



Would you like to leave an eulogy or condolence for T. J. Crawford? If so, simply click HERE
EULOGIES & CONDOLENCES
09-03-2016
Matthew & Courtney Baird
Although we have only known you all a short time, TJ impacted us more than you all will ever know! He always made us feel right at home and let us know we were always welcome! We are so blessed to know you all! We love yall and you guys are in our thoughts and prayers!
09-03-2016
Wane Jackson
Tom,,so sorry to hear about TJ. I know how proud you were of him. He was a good man,always respectful of others. You and Ernie are in our prayers.
09-03-2016
Mike Alabed (Julio)
I was a day late reading the J.C. Press, when I picked it up I was in dis-belief when I saw TJ's name in the obit's, TJ has been on my mind all day he was so young ! I thought it might have someone else with the same name until I saw his picture, Tom my heart goes out to you and your wife, TJ and I had some good laughs at Snap-On, I am so sorry...
09-02-2016
Mike Phillips
I am so sorry to hear of TJ's passing. My sympathy goes out to all of the family. I worked with TJ and his dad for years at Snap-on and will always remember TJ as a very happy and very intelligent man with a great sense of humor and a joy to be around. Tom, you raised a very good son. God bless all of you in the family during this time. I'll never forget TJ. I am blessed to have known him as a friend.
09-02-2016
Alan, Pamela, Hannah Hendrix
When GOD calls our loved ones home, he leaves a gift of memories in exchange. Rest easy dear friend you are in loving arms now.
09-02-2016
Steve, Sheri, Sebastian and Spencer Bakken
TJ was a good friend I always enjoyed his company and his stories. We would share stories about our son (who were both named Spencer) and came to realize that they acted a lot alike. TJ seemed to think it was the name. He always had a story, joke and a smile. We will remember him always. We had a great time the last time we saw him, it was great to see him with no worries for a few hours that night. Pam, Spencer and Alexis you guys are in our prayers and we are here for you all.
09-02-2016
gene williams
Tom, I was so sorrow to hear about T.J. I thought a lot of him. I know this will be hard for you and the family. I will be unable to attend the services, but I will be thinking about you all. Hang in there, and good luck.
09-02-2016
John Dillow
I am sorry to hear of TJ's passing. TJ was a fantastic person and a GREAT baseball coach. It was an honor to coach with him. I will always cherish our state championship experience. I will miss him always. If the family ever needs anything, please let me know. I will keep all of you in my prayers. Beth and I love you guys and will be here to help if you need anything.
09-02-2016
Tiny & Stacey Barbour
TJ fought hard along with his family to stay with us but God knew he had already done a lifetime of good here. He was a true friend to us along with so many others and left us with memories to remember. He showed everyone what family meant to him and was loved for being a great person inside and out. Rest now and we will see you later.
09-02-2016
SARAH BONSOR
SO SORRY TO HEAR THIS ABOUT TJ. I PRAY GOD STAYS BY THE FAMILIES SIDES THROUGH IT ALL HE WILL BE MISSED THAT IS FOR SURE.GOD LOVE YOU ALL.
09-02-2016
TERRY AND ANN RAGAN
HEAVEN GAINED A SPECIAL MAN. WE ARE GLAD TO HAVE CALLED YOU OUR FRIEND AND WISH WE COULD HAVE BEEN THERE FOR THE FAMILY. DUE TO HEALTH ISSUES WE COULDN'T. JUST KNOW YOU ALL ARE IN OUR PRAYERS AND ONE DAY WE WILL MEET AGAIN LOVE YOU ALL TERRY AND ANN RAGAN AND FAMILY
09-01-2016
Debbie Corn
Our condolences to the family. I remember Tj when Spencer played little league. Prayers to you all
09-01-2016
Duane and Ginny Shipley and Family
Our hearts and prayers are with you and your family.
09-01-2016
Josh Mowell
See you later TJ. Love you brother
09-01-2016
Karen Crowe
My sincere condolences for each of you. May God comfort you during this time. I worked with TJ at SNAP ON in JC. He was always kind and sweet. Prayers going up for his family.
09-01-2016
Beverly lewis
I'm so sorry for your loss....Will be praying for all of u...
09-01-2016
Paul Shelton
My condolences to the Crawford family. Hold on to happy memories. "What we have once enjoyed, we can never lose. All that we love deeply becomes part of us." -Helen Keller
09-01-2016
Kim Brown
Loving thoughts & prayers sent. TJ was one of a kind. He will be missed tremendously.
09-01-2016
Danny Dow
TJ a person respected by all as a fantastic Father, Husband and Friend, my regret is I met him recently and not earlier in my life - Thank you TJ for just being you, that is all we needed,