08-24-2016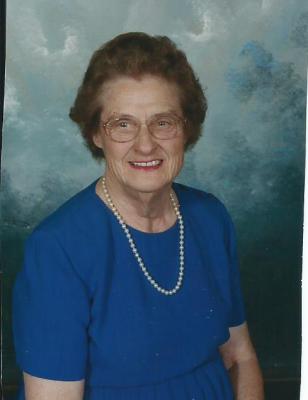 SERVICE SCHEDULE

Gladys Inez Johnson O'Dell DuVall went home to be with her Lord on August 24, 2016. Gladys was born in Erwin, TN on April 19, 1922. Early in life she moved to Johnson City, TN where she lived the rest of her life. She was the daughter of Robert Marshall and Nancy Haynes Johnson. She was a member of North Johnson City Baptist Church.
In addition to her parents Gladys was preceded in death by her first husband Janes Dawson O'Dell, her second husband Norman Duvall and daughter Joyce Ann O'Dell Evens.
Those left to cherish her memory are sons Dawson Wayne O'Dell (Diana), Jonesborough, James Douglas O'Dell (Rochelle), Florida; daughter, Shirley O'Dell Scott (Bill), Vero Beach, FL; stepson, Duane DuVall, Kingsport; stepdaughter, Debbie DuVall, Johnson City; son-in-law, Richard Evens (Susan), Norfolk, VA; 12 grandchildren, 20 great-grandchildren, 3 great great-grandchildren, and very special friends Diana (Dee) and Parnie Freeman.
Gladys loved and served her God, family, and friends throughout her life. She was an active member in her church until she became disabled. She will be truly missed by her family and friends.
For years Gladys was a traveling sales lady selling educational books and yellow pages advertisements. She was a partner in Rader, Little, and O'Dell Insurance Agency. She retired from Sears at age 85 after working for 47 years.
A special thank you to the wonderful people at Four Oakes Healthcare for the loving compassionate care given to Gladys and her family. A thank you to Avalon Hospice Care for your care during this time.
Family will have a Celebration of Life for Gladys Saturday August 27, 2016 from 4:00 pm to 6:00 pm at North Johnson City Baptist Church, 305 Ferndale RD., Johnson City. Gladys has donated her body to medical science.
In lieu of flowers, memorial contributions may be made to North Johnson City Baptist Church.



Would you like to leave an eulogy or condolence for Gladys Inez Johnson O'Dell DuVall? If so, simply click HERE
EULOGIES & CONDOLENCES
08-29-2016
Ed Laws
I worked with Miss Gladys during my time at Sears. I also worked with Alex at the Auto Center. I am sorry for your loss! She was always nice to me and I know she loved Alex and all her family very much. My prayers are with you all.
08-28-2016
Phyllis Reneau
I would like to send my sympathies to the family. She was always so welcoming to my family . I feel blessed to have known her.
08-27-2016
Thomas & Dinah Kay Lyle
Wayne, we never had the privilege of meeting your mother but you always spoke fondly of her. We would like to express our condolences to you and all your family for your loss. Know that you are in our thoughts and prayers.
08-26-2016
Betsy Ramsey
Gladys was my grandmother. I am saddened that I cannot be there for the service, but want to offer my condolences to all the other family members. For my entire adult life, Gladys was my only grandmother and I could not have asked for any better one. She was always so caring and gracious and fun to be around. We really enjoyed what little time we could share with her in our travels to TN. I could sit for hours and listen to her stories of growing up in the depression and her recounting the perils of being an appliance saleswoman at Sears. My children were only babies when my mother died and Gladys was their "grandmother" too, filling the role that my mother was unable to. She also played a mean game of pool! She was a pure joy to be around and she will be greatly missed.
08-26-2016
Alvin & Geneva Ray
To the Family, We were so sorry to hear about Gladys passing. Gladys was a wonderful careing person. She was the first to help me get a job at Sears about 30 years ago, She & Norman came to visit occasionally. She was good to her step children. Duane Duvall called her Mom & talked about her often. She will always be remembered as a kind & very intelligent lady, & will be missed. She hads so much love for all of her family.
08-26-2016
Wayde Brown
Dear Family, I am sorry for you loss of Gladys. I will not be able to attain the service, but will keep you in my prayers.Gladys and work at Sears for some years. May Gad Bless you. Wayde Brown
Dillow-Taylor is a third generation family-owned business...established in 1929
---
Dillow-Taylor Funeral Home and Cremation Services
P.O. Box 98, Highway 11-E, Jonesborough, Tennessee 37659
Office: 423.753.3821 Fax: 423.753.7409

Hours of Operation:
Monday - Saturday: 8am - 5pm
Sunday: 12pm - 4pm
---