08-23-2016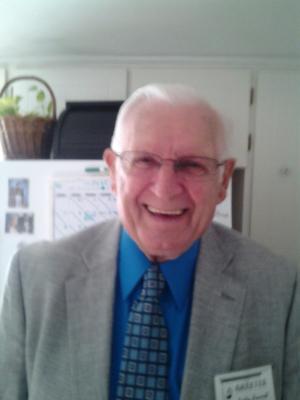 SERVICE SCHEDULE

He must increase, but I must decrease. John 3:30. This was the theme of Bobby's life, from the time he accepted Jesus Christ as his Savior, November 12, 1972. On that day, he became the new man 2 Corinthians 5:17 speaks of. Bobby was always ready and eager to share how Jesus changed his life.
Mr. Bobby Jack Bennett, Jonesborough, passed away Tuesday, August 23, 2016 at his residence.
Bobby was born in Roan Mountain, TN, May 12, 1941, to the late Neta Hyder Bennett and Harry Bennett. He lived in the Limestone Cove area of Unicoi County and grew up in Erwin. He graduated from Unicoi County High School in 1961. He retired from Nuclear Fuel Services in 2001, after thirty-nine years of service. He also proudly served his country in the United States Army, from 1967-1970, and in Okinawa, Japan for eighteen months.
Bobby was a faithful member of Cherry Grove Baptist Church, where he served as greeter. Every Sunday he greeted the people with a smile, hug, handshake, and a lifesaver. He always had a lifesaver with him and shared that Jesus was the real Lifesaver. He loved to sing in the church choir and served on the finance committee. In his years of service to his Lord, he was a church bus driver, Discipleship Training director, worked in VBS, and youth director.
Among Bobby's hobbies were restoring antique cars, riding his motorcycle, helping his wife and daughter with any and all things they desired to do, and fishing with his grandson, Matthew.
Bobby was preceded in death by his parents, his brother, Lester Bennett, sister, Patsy Ruth Bennett Tipton, his father and mother-in-law, Vasco and Sara Cooper, and sister-in-law, Jewel Cooper.
Left behind to cherish his memory are his loving wife and best friend of past forty-six years, Kathy Cooper Bennett, his daughter Amy Webb, his daughter and son-in-law, Sharon Bennett Millsaps and Doug Millsaps. The loves of his life, his precious grandchildren, Davis Webb, Sara Millsaps, and Matthew Millsaps, sister, Alice Bennett, sister-in-law, Helen Bennett, brother-in-law, Alvin Tipton, brother-in-law and special friend, David Cooper. He also leaves behind several nieces, nephews, cousins, and special friends.
Funeral Services for Bobby Jack Bennett will be held on Saturday, August 27, 2016, at Cherry Grove Baptist Church, 104 Cherry Grove Rd., Jonesborough, TN, at 3:00 pm. The family will receive friends beginning at 12:00 PM until the service begins. Burial will follow the service at Cherry Grove Cemetery. Pallbearers will be Doug Millsaps, Davis Webb, Hal Bennett, Gerald Webb, Clyde Story and Everett Scott. Honorary pallbearers will be Matthew Millsaps, the retired men's group of Cherry Grove Baptist Church and his Sunday School Class.
In lieu of flowers, it was Bobby's desire that contributions be made to the Matthew Millsaps fund or the Cherry Grove Food Pantry. For those wishing to donate in Bobby's memory, please make checks to Cherry Grove Baptist Church, and in the memo add Matthew's fund or Food Pantry. The address is Cherry Grove Baptist Church, 104 Cherry Grove Road, Jonesborough, TN. Attention Doyle Walters.



Would you like to leave an eulogy or condolence for Bobby Jack Bennett? If so, simply click HERE
EULOGIES & CONDOLENCES
08-27-2016
Brenda McKinney Powell
Kathy, Sharon, Sara, Matthew, Lisa and Davis, my heart breaks for all of you. I know Bobby Jack will be missed by everyone that knew him. May God Bless and comfort you in you time of sorrow.
08-26-2016
J.Shannon Zukas
My heart goes out to Kathy and Sharon and the rest of his family..He was such a big part of my time at Cherry Grove.I remember his smile,love of his family and the Lord.Please know that 20 years has not faded my memory of a good man.
08-26-2016
Mark and April Jones
We're so sorry for your loss. May God bless and comfort you and the family during this time. I know it won't be easy. When I heard about this I thought about the time Bobby and Daddy are having now.
08-26-2016
Conway Ledford
I am so heart sorry for the passing of (BJ) as we called him. Bob was always talking about how he loved Kathy & Sharron. I have known BJ since high school and of course he was my boss and co-worker at NFS for several years. His passing only makes it sweeter for us to look forward to meeting him again on the golden streets of heaven. He was always up-beat on the job with us and his love for our Lord and Savior always shined through his approach in life. God bless each of you.
08-26-2016
Jerry Huskins
It was with deep regret that I learned Of Bobby Jack's passing. Growing up, Bobby lived down the road from me. They were a good family. Bobby Jack and his brother Lester were very good high school football players.My sincere condolences to his family. John 14:18 Jerry Huskins Gray
08-26-2016
Linda Horne
Alice: So very sorry to hear about the passing of your brother. He has been healed and is no longer suffering. Praying for you and your family at this time. You and your family are in my thoughts and prayers.
08-25-2016
Debby Scism Sauceman
Such a precious man. This is like loosing a favorite uncle to me even though he was not blood kin. Prayers for everyone.
08-25-2016
Heatherly Sifford
Kathy and family, We are truly sorry for the loss of Bobby. We know how your hearts ache in the loss of your husband, father, brother and grandfather. Please know that you are in our thoughts and prayers. May the memories you have bring comfort in the days and weeks ahead. Love in Christ, Allen, Heatherly and Nicholas Sifford
08-25-2016
Sandra Edson
Alice and family: You and your family are in my thoughts and prayers during this time. May God wrap his arms around each of you and give you all the love and strength you need. God Bless you all.
08-25-2016
Ruby Poore McCurry
Kathy, so sorry to hear of the loss of your husband. So sad for you but he is happy with his Savior. You have always been a friend since first grade. I will keep you and your family in my prayers. Love, Ruby