08-10-2016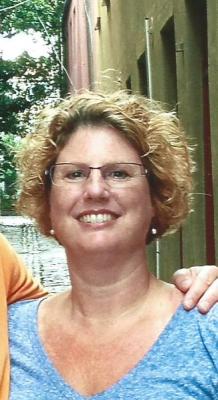 SERVICE SCHEDULE

Mrs. Jane Collins Eddy, age 53, Johnson City, passed away Wednesday, August 10, 2016 at her residence.
Mrs. Eddy was born in Winston Salem, NC and daughter of Clatie McLean Collins, Johnson City and the late Joseph Breckenridge Collins, Sr.
She was a member of First United Methodist Church, where she was very active in numerous committees including the United Emmaus Community.
Mrs. Eddy graduated from ETSU and was an Office Manager for Eddy & Eddy CPA's.
In addition to her mother, survivors include her husband of thirty years, Michael F. Eddy, Johnson City; son, Jordan C. Eddy, Nashville; daughter, Leah Eddy, Johnson City; brother and sister-in-law, Joseph B. "Breck" & Linda Collins, Denver, NC; and two nephews, Wesley Collins and Breck Collins.
The family would like to extend a very special thank you to Path Finder Sunday School Class, the staff of Regional Cancer Center of Mountain State Health Alliance, nurse navigator, Amy Verble and Dr. Chakraborty for their wonderful loving care.
Funeral services will be conducted 5:00 pm Sunday, August 14, 2016 at First United Methodist Church of Johnson City with Rev. Jane Taylor. The family will receive friends at the church from 2:00-5:00 pm Sunday prior to the service.
Interment services will be conducted 11:00 am Monday, August 15, 2016 at Washington County Memory Gardens.
Pallbearers will be Ernest Campbell, Tommy Greer, Jim Heaton, Calvin Robinson, Brian Rosecrance and Ben Peeples.
Memorial donations may be made to First United Methodist Church Building Fund 900 Spring Street Johnson City, TN 37604.



EULOGIES & CONDOLENCES
09-28-2016
Ray Dobbs
I met Jane at Sullivan Central High School my Senior year 79-80'. We were in band together. I just found out about her passing and I'm so very saddened, but I know she is in the presence of the Lord. We miss you Jane.
08-24-2016
Judy Dulaney
Mike I just heard about Jane today. I am truly sorry my heart goes out to you and your family. I cannot put into words how I have always felt about you and your family. I will keep you in my prayers. If I can ever do anything for you just let me know Thanks for being kind to me Your friend Judy
08-24-2016
Fred and Charlene Kaufmann
08-24-2016
Fred and Charlene Kaufmann
We just heard and we are so sorry, Mike, for you and your family. Once heard a little 6 year old say, "when someone dies, God builds a rainbow from here to Heaven." Surely Jane has a rainbow. With our deepest sympathy.
08-20-2016
Steve E Thompson
SSHS '81 Condolences to the family. May grace and peace keep you. Remembering Jane's talent and tenacity playing mallet percussion in school band. Warm sincere character.
08-18-2016
Charlie & Janet Stahl
We just learned of Jane's passing and we are very sorry for not paying our respects in person. May God Bless the entire Eddy family during this difficult time.
08-14-2016
David and Kathleen Moore and Family
Mike, Jordan, and Leah: our thoughts and prayers are with you. Jane was such a special person - her infectious smile and laugh, her kind and caring ways, her love for family and friends. Jane is a truly special person who made this world and community a better place. May you find peace and comfort knowing that her love for you will always be with you.
08-14-2016
Pati & Pat Shannon
Blessings and peace to the family from the Lord Jesus Christ. Amen.
08-13-2016
Tommi Bacon Workman
Went through school Jane...such a sweet,funny happy person..So sorry for your loss.my prayers for her family
08-13-2016
Jim and Pam Heaton
Strength, determination, dignity; Jane was a spirited, spunky lady - what a role model! Mike, Jordan and Leah, we Pray God will Bless you with Peace!
08-12-2016
Shannon Forbes
So sorry for your loss! Praying for God's peace and comfort for you during this time!
08-12-2016
Brenda Propst
Mike and family, so sorry to hear of Jane's passing. You are in my thoughts and prayers.
08-12-2016
Darlene McLean Johnson
May God Wrap her loving family in his love. For he says, "In the time of my favor I heard you, and in the day of salvation I helped you." I tell you, now is the time of God's favor , now is the day of salvation.
08-12-2016
Darlene McLean Johnson
Please attach reference to my previous message: 2 Corinthians 6:2 Thank you
08-12-2016
JIM AND VICKI ELLIOTT AND STAFF PINEY FLATS DRUG CENTER
SO SORRY FOR YOUR LOSS NO WORDS ARE ADEQUATE TO EXPRESS OUR SORROW OUR PRAYERS ARE WITH YOU
08-12-2016
Debbie Scott
We are very sorry for your loss. We will be praying for your entire family and for God's peace during this difficult time. John & Debbie Scott
08-12-2016
Karen McLean Archer
We didn't get to spend much time with our southern cousins but I remember one particular time when the Collins and the Beals visited us in Connecticut while they were camping. Shake and Bake was running an ad campaign at that time and we were constantly asking Jane to say "It's Shake and Bake and I helped" with her southern accent. She said it with a smile although she probably thought we were crazy. Our thoughts and prayers are with you and your family.
08-12-2016
Charles & Linda Ellenburg
Our hearts and prayers are with all of you at this very heart breaking time. You'll are such a sweet family and we pray that all of you will feel God with you at this very heart breaking time. Love in Christ, Charles & Linda Ellenburg
08-12-2016
Alex Donnelly
its been many years since our time on crystal springs drive. We were all a family. Although I know that no words can ease the loss you feel, just know that you are in our thoughts and prayers. God bless.
08-12-2016
Bob and Karen Smith
Mike and family, So sorry for your earthly loss. We will all miss sweet Jane. I (Karen) loved working with her in Emmaus and we had many times of laughter and special times of prayer! We will be reunited in God's eternal, heavenly home. Until then, you are in our prayers. Karen and Bob
08-12-2016
Bernie and Helen Gray
Mike, we are so very sorry. Bernie will never forget the kindness from your family shown to his sister, Jean Dockery. Our prayers are with you.
08-11-2016
Pam Johnson
So sorry for your loss. Jane was a very sweet person and will be missed. God gained another angel. My thoughts and prayers are with you.
08-11-2016
The Staff at New South Endodontics
Our thoughts and prayers are with you and your family during this time. With deepest sympathy, Joy, LaGina, Penny and Mary
08-11-2016
Barbara Morgan
It was a pleasure to know Jane and work with her for over a decade. She fought a good fight. My prayers are being offered for Mike, Jordan, Leah, and all of Jane's family and friends.
08-11-2016
Michael Estes
I am terribly heartbroken over Jane's passing. She was a wonderful lady and will be missed by all her knew her. My prayers are for comfort for Mike and the rest of the family during their time of grief. May God bless each of you and hold you near!
08-11-2016
Bob, Angie, Hannah, and Evan Rogers -Chattanooga
We are truly sorry to hear of Jane's passing. She was such a warm and enthusiastic person. Our thoughts and prayers are with you all, during these difficult days. Our Lord and his steady hand be with you.