07-18-2016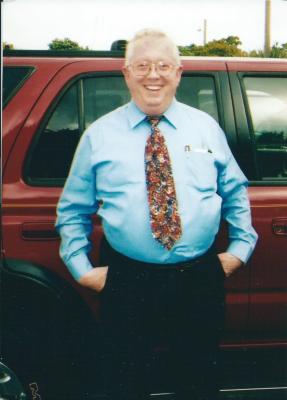 SERVICE SCHEDULE

Mr. John Allen Webb, age 75, Johnson City, went to be with his Lord and family Monday, July 18, 2016.
John enjoyed photography, writing poems, short stories and making people laugh. He loved teaching Yoga and Tai-Chi knowing, he was helping people enjoy a healthier lifestyle.
John served his country proudly in the Army with a three-year stint in Germany with the 32nd Signal Battalion. He worked for the FBI for a couple of years. He was employed by Sherwin Williams Paint Company as an outside sales executive for 25 years, after retiring from there, he opened Paint "N" More with his business partner Kenneth Rice. He retired from there after 22 years. He and his wife, Barbara also opened Golden Key Real Estate in Johnson City and operated it for 22 years before retiring.
He is survived by his wife of 53 years, Barbara Webb; two brothers, Charles "Randy" Webb and wife Patricia "Sissy" Webb of Johnson City and Ronald D. Webb and wife Pat of Miami, FL; one sister, Linda W. Chapman and husband David Chapman, Daytona Beach, FL; three nieces, Sherry Barnes Bowers, Daytona Beach, Vicki Webb Wolfe, Johnson City and Pattie Webb, Miami; two nephews, Chris Webb, Jonesborough and Ronald Webb, Jr. Miami; sister-in-law, Bobbye Webb, Jonesborough and many cousins and special friends including Kenneth Rice, Sonja Fox and Keith Holly.
John was preceded in death by his beloved mother, Mildred Cloyd Webb and father, Carrick C. Webb, oldest brother, Jack Webb and baby brother, Richard Webb, grandparents, Roy & Fannie Cloyd and Washington & Alice Webb and many aunts and uncles.
John will have a military graveside service 1:45 pm Thursday, July 21, 2016 at Mountain Home National Cemetery with Pastor Harold McNabb officiating.
In lieu of flowers, John would like donations be made to the Greenwood Baptist Church Building Fund 102 Elliott & Scott Circle Greenwood Dr. Johnson City, TN 37601.



Would you like to leave an eulogy or condolence for John Allen Webb? If so, simply click HERE
EULOGIES & CONDOLENCES
07-23-2016
Sandra Price Whitaker
Barbara, I just saw the local obituaries and read about John. I just talked with him at Hardee's a short time ago. We talked about how you and he gave me the baby bed when my son was born (yes...over 40 years ago). You and John were such a great source of encouragement and I appreciated that so much. Sending you prayers for peace and comfort.
07-23-2016
Marcia J. O'Dell-Carr
My Mom, sister and I lived next door to the Webb family for many years (us kids grew up together). I remember the time John took us for a ride in an old hurse he had bought. I recall going bowling with him and Barbara - he sure tried to teach me how to bowl. He always stayed busy and smiled a lot. I am so sorry to hear of his passing and pray God will bless the entire family.
07-22-2016
Dewey & Nancy Hope
John was a sweet man and we have many happy memories of him at Paint n' More. I can still see him sitting at the table with my dad cutting up. He was full of life and will be missed.
07-20-2016
Linda Williams Sweney
Linda & family, Thinking of you with love and prayers during this time.
07-19-2016
Kenneth, Jeannie & Kenslie Rice
For God so loved the world that he gave his only begotten Son, that whosoever believeth in him should not perish but have everlasting life. John 3:16 We love you John and we will miss you until we see you again.
07-19-2016
keith Scott Holly
I have known John since 1984 and considered him a true and close friend. He and I spent a lot of time together, went fishing together, and I bought a lot of stuff off of him at the paint store. He was a kind and caring man. I loved John, and I will truly miss him. My heart goes out to his family during this difficult time, but we all know that John is in a better place - much better than we are. I know that God welcomed John home and now he is watching us from heaven. You will be greatly missed by me, John. I will always remember your words of wisdom. I remember all of the times you talked to me about business and investing in property and good insurance...I learned a lot from you. I miss the times we went fishing, such as the night that we lost the new trolling motor on the lake, stranded for an hour or so. I'll always remember what you told me about how you felt spiritually - that is one thing that I have never forgotten. You told me we would be like bumblebees or butterflies soaring through the air, smelling the flowers, and then you would always say "we will marvel and gaze at His wonders". I will never forget you John. You were so much a part of my life for many years and kept me out of trouble. I remember when you first bought them "heeled" cowboy boots - made you two inches taller. I always kidded you about wearing "high heels". I remember the poetry and poems that you showed me over the years. I remember you wanting to write a book and I think with everything you've left behind and the people that you touched, a book could be written. I remember the countless times you spent in Helen, GA - one of our favorite places - going innertube ridiing on the Chatahoochie. I remember all the times we went and bought cars at car auctions and sold them, just as a fun hobby. Remember having them soup beans and cornbread that you always liked at the sale. I remember all the jokes you used to tell. There is so much that I would like to tell you, John, and your family. John loved his "little China doll" (Barbara). He loved her dearly. His brother, Randy, and sister, Linda, and his sweet niece - he loved them as well and talked about them all of the time and the fun they had together. I could talk about John forever and a day and want to talk more about him, but this was just a little bit of what John meant to me and what I remember about him that I wanted to share with those who will miss him also. All my love to you, John. I wil miss you, but I will see you again one of these days. Everytime I see a butterfly or bumblebee, I will think about you. My prayers and thoughts are with John's family. May God give you peace and comfort during this time. Your true friend, Keith Scott Holly Johnson City, TN