06-26-2016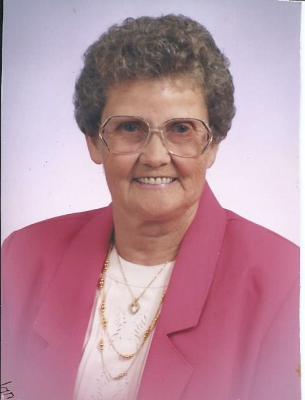 SERVICE SCHEDULE

Mrs. Ilean Julia Pierson, age 90, Limestone, unexpectedly passed away Sunday, June 26, 2016 at her residence.
Mrs. Pierson was born October 14, 1925 in Washington County and daughter of the late George Allen & Jodie Bell Barnes McGee. She was also preceded in death by her husband, Fred F. Pierson, two brothers, James W. McGee and Cecil (June) McGee, Jr.
She was a member of Pleasant Grove Baptist Church for more than 62 years.
Mrs. Pierson retired from Burlington (Klopman Mills) after 42 years of service.
Ilean has left behind to cherish her memories four sons, Raymond Pierson, Gary Pierson (Linda), Paul Pierson, and Charles Pierson (Sheila); grandchildren, Sherri Bowers, Shon Pierson, Brandon Pierson and Travis Taylor; great-grandchildren, Robert Brewer, Jonathan Brewer and Tyler Pierson; great-great grandson, Leland Brewer.
Funeral services will be conducted 8:00 pm Wednesday, June 29, 2016 at Dillow-Taylor Funeral Home with Pastor Charles Morgan and Pastor Gary Gentry officiating. The family will receive friends from 6:00-8:00 pm Wednesday prior to the service.
Interment services will be conducted 10:00 am Thursday, June 30, 2016 at Pleasant Grove Baptist Cemetery.
Pallbearers will be men of Pleasant Grove Baptist Church.
In lieu of flowers, the family requests a memorial contribution be made to Pleasant Grove Missionary Baptist Church P.O. Box 246 Limestone, TN 37681.



Would you like to leave an eulogy or condolence for Ilean Julia Pierson? If so, simply click HERE
EULOGIES & CONDOLENCES
06-30-2016
Donnie Percell
Charley and family sorry about your mom
06-30-2016
Lori McCracken
Mrs. Ilean was one special lady. My condolences to her family~
06-30-2016
Andra Kyker
Charlie and Family, I am so sorry for your loss. You and your family are in our prayers. Sincerely, Andy Kyker
06-29-2016
Bobby & Sharon Rader
we were sorry to here about Ilean. You all are like family, and we are so sorry we could not come up there and be there for you. we are not well and Bobby is not doing to good.May God Bless each of you
06-29-2016
Bill and Gail Rambo
Ilean and her family were the kindest friends we could ever have. This includes Jessie and Buryel McCracken. She will be missed!
06-28-2016
Paul and Debbie Masters
Dear Family, We are so sorry for your loss. The last time we saw Ilean was in April. My mom, Frances Deakins and Ilean were first cousins. May God Bless You.
06-28-2016
Sandra Deakins Cooper
So sorry for your loss. There is a special place in heaven for her. I remember going to see her when I was young, with my Mom Frances Deakins. May God be with all of you.
06-27-2016
Richie, Robin, & Seth Saults
We know God was waiting on this one! But she will be so missed, by so many. We loved Ilene and we love you all too! May God's comfort be with you.
Dillow-Taylor is a third generation family-owned business...established in 1929
---
Dillow-Taylor Funeral Home and Cremation Services
P.O. Box 98, Highway 11-E, Jonesborough, Tennessee 37659
Office: 423.753.3821 Fax: 423.753.7409

Hours of Operation:
Monday - Saturday: 8am - 5pm
Sunday: 12pm - 4pm
---