06-25-2016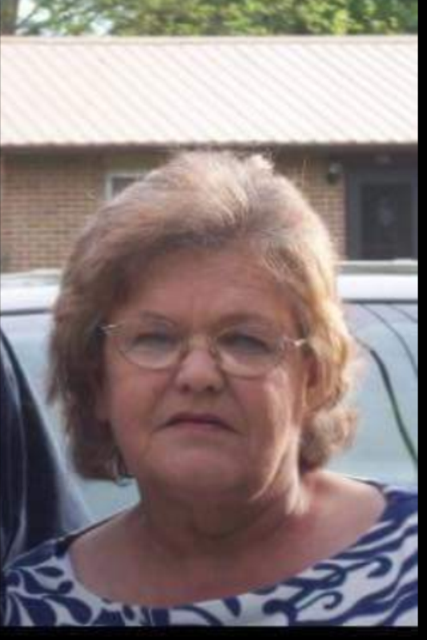 SERVICE SCHEDULE

I have fought the good fight; I have finished the race. I have kept the faith. 2 Timothy 4:7.
Mrs. Sharon Lynn Tester Rupert, Jonesborough, passed away Saturday, June 25, 2016 at the Johnson City Medical Center.
Mrs. Rupert was born May 22, 1949 in Johnson City to Dewey and Ruby Tester. In addition to her parents, she was proceeded in death by her sister, Louise Slemp and several brothers.
She was a devoted wife, mother, and grandmother.
Living to cherish her life are her husband of 47 years, Eddie Rupert; sons, Allen Rupert (Sarah), Robbie Rupert (Vickie); daughter Debbie Tester (Bobby); six grandchildren who she loved more than life, Charlie Rupert (Brittany), Amber Rupert, Toby Rupert, Sid Tester, Cassidy Rupert, and Josh Tester; special nephew and niece, Darrell Mann and Debbie Coffelt; step father-in-law, Gene Graybeal; and her little girl, Lucy. The family expresses special thanks to Jane Rupert and Ronnie Goodman.
The family will receive friends Monday, June 27, 2016 from 6:00 – 8:00 PM at Dillow-Taylor Funeral Home, followed by funeral services at 8:00 PM with Pastors Tim Roach and Jeremy Dykes officiating.
Graveside services will be 10:00 AM, Tuesday, June 28, 2016 at Limestone Freewill Baptist Cemetery. Pallbearers will be grandchildren. The family request those attending meet at the cemetery.



Would you like to leave an eulogy or condolence for Sharon Lynn Tester Rupert? If so, simply click HERE
EULOGIES & CONDOLENCES
06-28-2016
Rhonda Conley
Eddie, Allen, Robbie, and Debbie I'm so sorry for your loss! I was heartbroken to hear the news. We have such special memories of our times together and I love you so dearly!! Sharon was a wonderful person. I'm praying for God to strengthen and keep you through this difficult time. Love, Pud
06-28-2016
Angie Watts
I'm so sorry for you loss, I worked with her at Hardee's & I thought of her as a good leader & a dedicated worker,she will be greatly missed. My prayers are with you all,God bless you all.
06-28-2016
Phyllis Owens Cooper
Eddie, I was just told the sad news about Sharon. I would have paid my respects at the service, had I known. Our friendship started many years ago. You and your family are in my prayers.
06-27-2016
Jackie (Copas) Herron
Eddie, Allen, Robbie, Debbie and Family: I am heartbroken for you. Sharon was an amazing lady and I am glad I was able to know her. I have you all in my prayers as you deal with your heartache and loss. Love and hugs to you all. _Jackie
06-27-2016
Karen Greear-Moore
Robbie and Vickie & family, I am so very sorry for the loss of your mother. I never had the privledge to meet her but always heard many great things about her. I know she will be truly missed. May the Lord give you comfort at this time and in the following weeks to come.You remain in my thoughts and prayers.
06-27-2016
Joe & Cheryl Nickles
Eddie & family - please accept our deepest sympathies in the passing of Sharon. We will keep you in our thoughts and prayers. Again we are so sorry for your loss.
06-27-2016
Lori McGinnis
Robbie, Vicki, and Rupert Family, My heart goes out to all of you. Sending Prayers and warm wishes for comfort to you. One day we will all be reunited for eternity. God Bless you all...
06-27-2016
Toby and cassidy rupert
Love you mamaw R.I.P
06-27-2016
Connie Wright
I am so saddened that Sharon has left us but I am so thankful for having known and loved her. My memories of the years she, Debbie and I spent in our youth are so precious and loving. I know how much she loved her family and friends and no one could have had a better friend than she. I am so sorry I am not going to be able to make it tonight. I have all of you in my prayers and my heart and pray for God's strength and peace of mind as you celebrate her life. I will do my best to make it tomorrow for the graveside service.
06-27-2016
Gail Keller and Don Hodge
We are very sorry for your loss. She was well liked.
06-27-2016
Gerald & Donna Laws
Sharon was a beautiful person inside and out ,I thank the Lord to have been able to call her my friend..,..Eddie and family if you all need anything, Please let us know...Love and prayers for all..
06-26-2016
Shirley Palmer
Sharon was a friend we had great times at thirty one parties.Thinking of all the family.
06-26-2016
Truman & Pam Hopson
Eddie, & family, we are so very sorry for your loss of Sharon. Our prayers are with you all and remember she is resting in the arms of Jesus, with no pain and sorrow and we pray you'll find comfort knowing this. She was dearly loved and will be missed. God bless each and every one of you. With love
06-26-2016
John Boyd
Sharon Lynn Tester Rupert Family, Sorry to hear about your loss. John D. Boyd ('Johnny')
06-26-2016
Patricia Boyd
Rupert family, So sorry to hear about your loss. My thoughts and prayers are with you, Pat. ('Sis')
06-26-2016
Robbie rupert
Love you mom rest in peace and enjoy heaven we will meet again you are the best mom grandmother wife and problem solver a husband three kids and six grandchildren could ever ask for. You Will Be Missed !!!!!!!!!!!!
06-26-2016
Tim Hensley & Linda
so sorry for your loss. Let us know if you need anything
Dillow-Taylor is a third generation family-owned business...established in 1929
---
Dillow-Taylor Funeral Home and Cremation Services
P.O. Box 98, Highway 11-E, Jonesborough, Tennessee 37659
Office: 423.753.3821 Fax: 423.753.7409

Hours of Operation:
Monday - Saturday: 8am - 5pm
Sunday: 12pm - 4pm
---