06-22-2016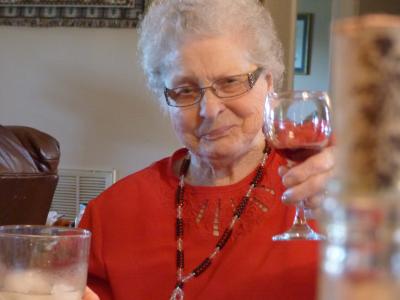 SERVICE SCHEDULE


Helen Wyatt, 90, of Jonesborough, TN passed away, peacefully, on Wednesday, June 22, 2016.

Helen was born in Oostende, Belgium on January 26, 1926. She immigrated to the United States in December of 1953. She taught herself to speak, read and write English and became a naturalized citizen of the United States in May of 1960. She was extremely proud of her citizenship and properly displayed her flag in front of her home.

Helen was also gifted at making arts and crafts. She would often spend her days knitting, crocheting, painting, sewing, making cards or jewelry.

In addition to her parents she was preceded in death by her first husband who came from Belgium with her, Maurice Brodio. Her second husband, Neal Wyatt preceded her in May of 2001 and her grandson, Dale Nalbone of Jonesborough, TN in 1995.

Helen relocated to Jonesborough from Crossville, TN in Oct of 2007 to be closer to her children. After her move to Jonesborough she became involved with the Jonesborough Senior Center. She enjoyed going to the "Senior's" 2 to 3 time per week.

Survivors include her sister Simone of Belgium, daughter, Mireille Cantrell of Nashville, TN, son, Leslie Brodio of Jonesborough, TN and daughter, Annette Nalbone of Jonesborough. She is also survived by 7 grandchildren and 12 great grandchildren.

The family will receive friends from 2:00-4:00 pm Saturday, June 25, 2016 at Dillow-Taylor Funeral Home.

In lieu of flowers, memorial contributions may be made to the Jonesborough Senior Center Arts and Crafts Program 307 E. Main Street Jonesborough, TN 37659.



Would you like to leave an eulogy or condolence for Helen Wyatt? If so, simply click HERE
EULOGIES & CONDOLENCES
06-26-2016
Ronda Bernard
Michelle Beckett And Family: May God give you peace during this difficult time. I know she will be missed but I know she will NEVER be forgotten. Prayers are being sent to you all!!!
06-25-2016
Doc & Pamela Johnson
Helen was a great friend that we met through the Senior Center, she will be greatly missed. Our prayers go with you during this time of loss. Rest assured that she shall live on in all of us that were touched by here giving spirit. 2 Corinthians 5:6-8New International Version (NIV) 6 Therefore we are always confident and know that as long as we are at home in the body we are away from the Lord. 7 For we live by faith, not by sight. 8 We are confident, I say, and would prefer to be away from the body and at home with the Lord. May the Lord, Bless,Love and & Keep You Always Amen!
06-24-2016
Christa Ramsey
Praying that God gives your comfort and peace through this most difficult time. My deepest sympathies are with you and your family at this time of grieving.
06-23-2016
Susan Franceschina
I will always remember your mother our times together at the Senior Center and on some of the bus trips. I have many things that she made when doing her crafts. She was a funny lady with whom I had many laughs. sending prayers to your family. Susan
Dillow-Taylor is a third generation family-owned business...established in 1929
---
Dillow-Taylor Funeral Home and Cremation Services
P.O. Box 98, Highway 11-E, Jonesborough, Tennessee 37659
Office: 423.753.3821 Fax: 423.753.7409

Hours of Operation:
Monday - Saturday: 8am - 5pm
Sunday: 12pm - 4pm
---