04-25-2016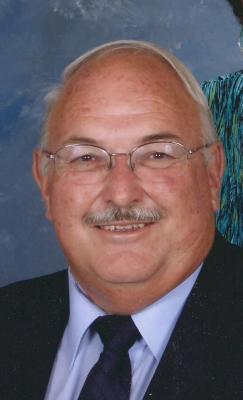 SERVICE SCHEDULE

Mr. Darrell Wayne Tilson, age 67, Jonesborough, passed away Monday, April 25, 2016 at his residence after a courageous battle with cancer.
Mr. Tilson was born in Unicoi and son of Helen R. Tilson, Erwin and the late Clarence Tilson.
He was a member of New Victory Baptist Church where he had served as Trustee, Sunday School Teacher, Youth Director and Van Ministry Director. Wayne enjoyed participating with "Get Real Ministries" on various mission trips. He was a good Christian man who loved the Lord and his family.
He was a United States Air Force Veteran having served during Vietnam Conflict in Korea.
Mr. Tilson retired from the James H. Quillen VA Medical Center after 35 years of service.
He was an avid Bass fisherman and gardener. He was a loyal supporter of his children and grandchildren, who were his pride and joy. He enjoyed farming and building relations with friends and customers while working for Larry Thompson Farms and selling strawberries on West Market Street.
In addition to his mother, survivors include his wife of 39 years, Wanda McCurry Tilson, Jonesborough; children, Richard Tilson (Angie), Tony Tilson (Lee), Sandy Forbes (Bryan) and Mike Tilson (Whitney); grandchildren, Caleb Tilson, Ben Tilson, Rachel Tilson, Whitnee Tilson, Jake Tilson, Ashley Forbes, Justyn Forbes, Leland Tilson and Nolan Tilson.
The family would like to thank Amedisys Home Health and Hospice for the loving care provided to Wayne.
Funeral services will be conducted 7:00 pm Wednesday, April 27, 2016 at Dillow-Taylor Funeral Home with Rev. Parker Street, Rev. Darrell Wayne Slagle and Chaplain Karl Gasser officiating. The family will receive friends from 5:00-7:00 pm Wednesday prior to the service.
Interment services will be conducted 11:00 am Thursday, April 28, 2016 at New Victory Baptist Cemetery.
Pallbearers will be sons and grandsons. Honorary pallbearers will be Gene Ramsey, Jerel Ramsey, Harold Ramsey, Jim Ramsey, Larry Thompson, Sr., Jim Tipton, John Wilson, Robert Chatman and Bill McCrary.



Would you like to leave an eulogy or condolence for Darrell Wayne Tilson? If so, simply click HERE
EULOGIES & CONDOLENCES
05-03-2016
GENE O EDWARDS
Gene Edwards Almost Heart stopping to learn of the passing of a long time friend, Knowing he is with the father and hurts no more is a comforting thought, and knowing he is now home! A special request from above as i know Wayne would have it,that you not be of sorrow and hurt, but rejoyce in knowing he is by ones who have went before and wating on him!And they will be witing on us whom is left behind !,,,,Asking for the pain and hurt,being cimfort that is sent from above and his strength be in you all of the Family for the divine presents be among you !
04-27-2016
Bobby, Katelyn and Rebecca Oliver
We are keeping all of you in our thoughts and prayers. Even though we all know how happy and glorious Wayne is with God now, it still hurts for the loved ones left behind. We're praying for you all in the days to come.
04-27-2016
Jan Jones
We are all thinking of you and praying for peace and strength at this difficult time. If I don't get there tonight please know that you are in my thoughts and prayers. Mr. Tilson will be greatly missed and that is a tribute to his dedication to Christ, his family and his friends. His obituary describes a life well lived. God bless you all.
04-27-2016
Becky Chase King
Dear Wanda and Aunt Helen, I just received the news about Wayne. I am so sorry for your loss, may God give all the family strength and comfort at this sad time, as my heart hurts too. You all are in my thoughts and prayers. Love,Becky I am in Oregon at this time and will not be able to attend the service,just know I am thinking of everyone and sending love and hugs.
04-27-2016
Stephanie and Toby Presnell
We are sorry for your loss and have your family in our thoughts and prayers.
04-27-2016
ruth story
Wanda; our deepest sympathy for you & family for the loss of Wayne ,while we are so sorry for your pain ,we can rejoice that He is at home with JESUS, may God grant you peace & rest Melvin& Ruth Story
04-27-2016
Mike Sweeney
Wayne was such a great man. I am so sorry for the family. May God be with you all threw this trying time.
04-26-2016
Lisa Kaye Ramsey
Wayne touched our lives in a special way filled with Love and Care. He was always so kind and never had a bad word for anybody. He was definitely a spiritual man and I truly believe our Dear Lord has Welcomed him home with open arms. I am thankful for the time that God blessed us with such a wonderful cousin! May he continue to watch over and comfort his family during this difficult time. Love, Lisa Kaye
04-26-2016
Janet (Ramsey) Martini
Wayne is such an amazing Man of GOD and my life is truly blessed to have had him in it!! I say is because he still is, just not here with us, but in his new Heavenly Home. I love you all so much and I pray that GOD will hold you and comfort you as only he can. The LORD's Holy Spirit inspired a poem in me that I pray you get some kind of comfort from. "My Love is always with you" I know your heart is breaking and you will miss me very much. If it were possible for me I would always keep in touch. My life is not over, It is just transformed and I am so very happy in the presence of our Lord. I know the pain of grieving. I have felt it many times when someone you love dearly is no longer in this life. I ask that you not grieve for me, just fill your heart with Love. In your memories see me free in my Heavenly home above. Show that love to all you know so they can see the peace in knowing that when you go you will be reunited with me. Our Lord Jesus made the way and He took us as his own. He walks and talks with me today in our awesome Heavenly home. I Love you more than words can say. I cherish all we shared together. We will be together again one day and then it will be forever. Janet C. Martini 3/31/11 ©
04-26-2016
Erin Weatherford
My thoughts and prayers go to your family. May God give you comfort in all you are going through.
04-26-2016
Phyllis Carter
Wanda, I am so sorry to hear of Wayne's passing. He fought a long and hard battle with the cancer, but now he is in the arms of Jesus and no more pain. My thoughts and prayers are with you, his mother, your children and your grandchildren. May God be with all of you in this time of sorrow.
04-25-2016
Mr & Mrs Randall Salts, Mr & Mrs Jake Gross
The Tilson Family We was sorry to read about Mr Tilson he was always so nice to us. Your all in our thoughts and prayer's during this time if we can do anything let us know Randall, Deadra, Katelyn Salts & Jake & Elizabeth Gross
04-25-2016
Steven & Dawn Bailey
We were honored to have known him. We feel for your loss at this time. Our prayers are with you and your family.
04-25-2016
Jo Ann Holley
Wanda, I am so sorry for your loss. You are in my thoughts and prayers.
04-25-2016
Danny and Kelly Edens
Wanda and family, We are so sorry for your loss. Wayne was an extraordinary man and will be missed! We know that your loss is truly Heaven's gain. We love you all and are keeping you lifted in our prayers. Psalm 91
04-25-2016
Betty Farris
Sandy you and your family are in my thoughts and prayers. With deepest sympathy.