03-31-2016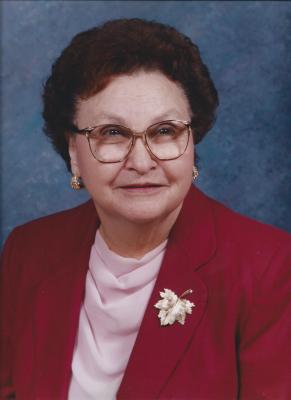 SERVICE SCHEDULE

Mrs. Mollie Elizabeth McGee, age 89, Jonesborough, passed away Thursday, March 31, 2016 at her residence.
Mrs. McGee was born in Unicoi County and daughter of the late Hoy & Delena Overholser Gouge. She was also preceded in death by brothers and sisters, Bob Gouge, Walt Gouge, Bill Gouge, John Gouge, Ralph Gouge, Lida Gouge, Tulsa Gouge, Billy Gerald Gouge, Myrtle Adkins, Grace Whitson, Ruth Gers, Faye Jones and Juanita Popp.
She was a member of First Baptist Church of Jonesborough and the Dorcus Sunday School Class. She was also a member of the Springdale Home Club.
Survivors include two sons and daughters-in-laws, Ross & Gaynell McGee, Telford and Jack & Rose, Florida; sister, Lucy Margaret Lane (James), Chuckey; grandsons, Brian McGee, Telford and Rick Sands (Tabby), Warner Robbins, GA; and granddaughter, Jennifer Joyner (Paul), Plains, GA; and several nephews and nieces.
Funeral services will be conducted 4:00 pm Sunday, April 3, 2016 at the Dillow-Taylor Funeral Home with Pastor James Harrison officiating. The family will receive friends from 2:00-4:00 pm Sunday prior to the service.
Interment services will be conducted 3:00PM Monday, April 4, 2016 at Roselawn Memorial Park.
Pallbearers will be family and friends.



Would you like to leave an eulogy or condolence for Mollie Elizabeth McGee? If so, simply click HERE
EULOGIES & CONDOLENCES
04-04-2016
Paula Herrera
I always loved Mollie and am so happy I got to see her recently and tell her what she meant to me. So many happy memories. I am so sad she is now gone from my life but know she is in God's loving hands and enjoying time with her heavenly family. I am thinking of you, her family and friends, and hope you are celebrating her life, her laughter, and her love. May God and peace be with you. I love you all.
04-04-2016
Donna Haynes
I am so sorry to hear of your loss. May the angels comfort you during this time. I will always remember Mollie's laughter and smile.
04-03-2016
Paul & Marilyn Kittle
We would so love to be there with you today to celebrate your mom's life Jack & Ross. We are praying for comfort & peace during this time. Just know we are there in spirit! We love you folks. You are as close as our own family. God bless.
04-02-2016
Gail Vines
I enjoyed working with Mollie for many years. She was always so helpful to everyone. Prayers for your comfort.
04-02-2016
Charles and Tina Gouge
So sad to hear about Aunt Mollie's passing. She was an Angel on Earth, Heaven just gained a wonderful Angel.She will be missed by all. Much love Charles Gouge and family,
04-01-2016
Debbie Masters
Dear Family, Our thoughts and prayers are with you during this time. We are so blessed to have had Mollie as our friend for many years. May God Bless You. Paul and Debbie Masters and Frances Deakins
Dillow-Taylor is a third generation family-owned business...established in 1929
---
Dillow-Taylor Funeral Home and Cremation Services
P.O. Box 98, Highway 11-E, Jonesborough, Tennessee 37659
Office: 423.753.3821 Fax: 423.753.7409

Hours of Operation:
Monday - Saturday: 8am - 5pm
Sunday: 12pm - 4pm
---