03-07-2016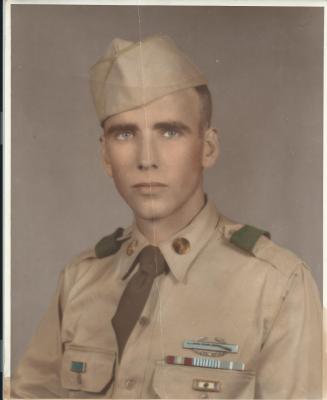 SERVICE SCHEDULE

Mr. Carmack "Mack" Barnett, age 86, Jonesborough, passed away Monday, March 7, 2016 at his residence.
Mr. Barnett was born in Carter County and son of the late Frank and Pearl Barnett. He was also proceeded in death by brothers Doren Barnett and Willie Barnett, and sister Edna Simerly.
Survivors include his wife, Judy C Barnett, of the home; daughter, Shari Hebner, Telford; son, Greg Barnett, Jonesborough; grandchildren Destin Hebner and Daelin Hebner; and sister, Gloria Jenkins of Valley Forge.
Visitation services will be Thursday, March 10, 2016, from 12.00 to 1:30 PM at the Valley Forge Baptist Church with Pastors Randy Johnson and Mark Potter.
Interment services will follow at 2:30 PM at Mountain Home National Cemetery with military honors.
Pallbearers will be family and friends.
The family wishes to express their special thanks to VA Home Health Care, Caris Hospice, and the VA nurses and doctors.



Would you like to leave an eulogy or condolence for Carmack "Mack" Barnett? If so, simply click HERE
EULOGIES & CONDOLENCES
03-09-2016
Carol Ann (Miller) Causey
So sorry for your loss. My prayers and love to all of you at this time. Carol Ann(Miller)Causey
03-09-2016
Janet Smith-Woodie
Judy/Shari I am so very sorry to hear about Mack. He was such a kind and generous man and I will never forget him. I will be praying for you all and if there is anything I can do please let me know. I love you both so very much and would love to see you all. I am sorry I cannot make it to the funeral but I will have you both in my thoughts and prayers. My email address is janet.lynne53@yahoo.com. Would love to hear from you!!!
03-08-2016
David Francis
My cousin. -always has been a rock of the community. The city the church. A man I admire and have respected my entire life I know he sees with new eyes. He lives with a joy we here will not know till we meet again on the street of gold. Dance Carmack!!! Tell my grand mom and dad it won't be long. Mom is missing them more today than ever To your loves left behind. --- carmack is walking a new walk. Seeing beyond what we can dream of. My love prayers and thoughts are with you Corinna. You have been a lady of integrity. Gods peace rest with you and the kids
03-08-2016
Beverly Barnett
My dear Uncle Carmack has gone to heaven. He will be sorely missed by family and friends. A more moral and kind man cannot be found. What s wonderful role model for his family and extended family, grandchildren, nieces and nephews have benefited from his wisdom and humor. I am so proud and blessed to have him in my life. Deepest condolences and love to Aunt Corina, Sherry and Greg. Cousin Beverly
Dillow-Taylor is a third generation family-owned business...established in 1929
---
Dillow-Taylor Funeral Home and Cremation Services
P.O. Box 98, Highway 11-E, Jonesborough, Tennessee 37659
Office: 423.753.3821 Fax: 423.753.7409

Hours of Operation:
Monday - Saturday: 8am - 5pm
Sunday: 12pm - 4pm
---

| | | | | |

Copyright ©2019 Dillow-Taylor Funeral Home and Cremation Services. All Rights Reserved.
Programming & Web Development by .