02-11-2016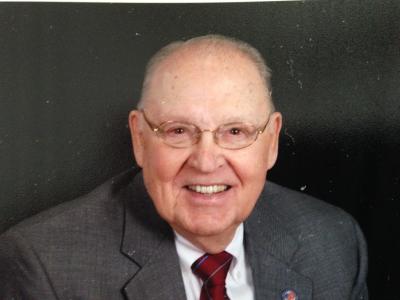 SERVICE SCHEDULE

Mr. William Hawthorne Conant, age 89 passed away on Thursday, February 11, 2016 at his home in Johnson City, Tennessee. He was born at home in Hawkins County, Tennessee and was the son of the late John and Kathleen Conant. Mr. Conant was a graduate of Tennessee Wesleyan and attended East Tennessee State University, and also served in the United States Navy. He was employed by the Sherwin – Williams Company for 35 years.
In addition to his parents, he was preceded in death by his brother, John Conant; and sisters: Evelyn Lane, Sarah Reel, and Mary Ann Ronk.
He is survived by this wife of 63 years, Marylou, and daughter Emily, of Cincinnati, Ohio. He has two grandchildren; Bradley Stelzer and wife Adrienne of Frederick, Maryland and Lindsey Stelzer of Cincinnati, Ohio. William also has one great grandchild; Vivienne Lee Stelzer.
The family requests in lieu of flowers, memorials should be made to the First Presbyterian Church, 105 South Boone Street, Johnson City, TN 37604. It was Mr. Conant's wish to donate his body to the E.T.S.U. College of Medicine.
A Memorial Service for Mr. William Conant will be held on Sunday, February 14, 2016, at 2:00 p.m. at the First Presbyterian Church, Johnson City. A reception in the Fellowship Hall will follow the service.



Would you like to leave an eulogy or condolence for William Hawthorne Conant? If so, simply click HERE
EULOGIES & CONDOLENCES
02-13-2016
Kathryn Wilder
Marylou and family, I am so saddened by the loss of Bill. He was a good, kind man and will be sorely missed. My parents had also been married 63 years when my Mother passed away and it was hard to see how grief stricken this becomes with the loss of a life partner. My thoughts and prayers go out to you and your family. Please let me know if I can help in any way. I am right at your back door and can pick up your mail or any other task I can unburden you with. Respectfully, Kathryn
02-13-2016
Starla Helms Garland
I enjoyed getting to know Bill when I lived at Williamsburg, he would speak to me often when I came in from work. Always had a smile and something positive or funny to say. I am glad he touched my life. With my sympathy for your loss Starla
02-13-2016
Mary Alice Gordon Hardin Evans
Dearest Marylou, I am thinking of you with love as you grieve the death of your wonderful husband. I looked forward to visiting your home because I'd get to chat with Bill. He was gentle and outgoing; always made me feel welcome. My prayers are with you. Love, Mary Alice
02-13-2016
Joy Hawthorne Lyons
Marylou and Emily we are very sorry for your loss. My father Shannon is ill at this time but sends his love, and we all have you in our thoughts and prayers. Love, the Hawthorne family
02-12-2016
Ann & Horace Cupp
Mary-Lou, so sorry to see the announcement in the paper this morning. Our prayers and thoughts are with you today. Ann & Horace Cupp
02-12-2016
Rev. Dean W. Brown
I only knew Bill for the four years I was at First Presbyterian, but I remember him as a fun loving man who liked to joke around and could take a good "ribbing". I also remember his love for the game of golf and all the help he gave to the Jerry Mooneyhan Memorial Tournament. He was a fine Christian man and I know he will be missed by family and friends. I am so sorry to hear of his passing, Mary Lou, and I will be praying for you and your family.
Dillow-Taylor is a third generation family-owned business...established in 1929
---
Dillow-Taylor Funeral Home and Cremation Services
P.O. Box 98, Highway 11-E, Jonesborough, Tennessee 37659
Office: 423.753.3821 Fax: 423.753.7409

Hours of Operation:
Monday - Saturday: 8am - 5pm
Sunday: 12pm - 4pm
---