02-01-2016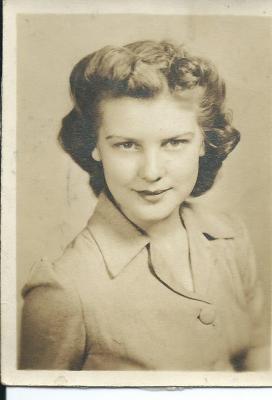 SERVICE SCHEDULE

Mrs. Betty J. Carey, age 85, Jonesborough, passed away Monday, February 1, 2016 at the Unicoi County Memorial Hospital.
Mrs. Carey was born in Washington County and daughter of the late John "Clay" & Mary Cloyd White." She was also preceded in death by her husband, Jack Eleson Carey and a son, Sheryl Wayne Carey and two brothers, Raymond "Bruce" White and John Clay White Jr.
She was a member of the First Baptist Church of Jonesborough.
Survivors include one sister, Virginia "Jenny" White; daughter, Tessa Platt Carey; grandson, Adrian Platt; three great grandsons, Christian, Samuel and Benjamin; and one niece, Debra Carr.
Funeral services will be conducted 7:00 pm Friday, February 5, 2016 at the Dillow-Taylor Funeral Home with Rev. Joel Cook officiating. The family will receive friends from 5:00-7:00 pm Friday prior to the service.
Interment services will be conducted 11:00 am Saturday, February 6, 2016 at Sulphur Springs Cemetery.
Pallbearers will be Adrian Platt, Joe Carr, Richard Story and Mark Carey. Honorary pallbearers will be John Carey and David Carey.



Would you like to leave an eulogy or condolence for Betty J. Carey? If so, simply click HERE
EULOGIES & CONDOLENCES
02-08-2016
Steve Sherer,Terry,Adam
Tessa and family, sorry to hear about Betty, She always had a smile and TEA for us. we really enjoyed knowing her and your family, you all take care.
02-06-2016
Diane Cline Wilson
Tessa, I am so sorry to hear about your Mom. She was a sweet lady and was always so kind to me when you and I were growing up together. You are in my thoughts and prayers. Love you!
02-05-2016
Jeanette McCoy Miiller
02-05-2016
Jeanette McCoy Miller
Tessa and Family, I was so sorry to learn of your Mothers passing. I know first hand of how it feels to lose a dear brother and a mother in such a short time. God is always with us, giving us peace and assurance that we will see them again, and what a great reunion that will be. My thoughts and prayers will be with you during this difficult time. Please call or come by anytime if you need me.
02-05-2016
LYNN LLOYD
TESSA AND FAMILY, VERY SORRY TO HERE OF BETTY'S PASSING. BETTY, JACK AND FAMILY WERE ALWAYS VERY GRACIOUS AND GIVING PEOPLE AND INFLUENCED MANY PEOPLE IN A VERY POSITIVE MANNER. THEIR POSITIVE INFLUENCE WILL CARRY ON THROUGH ALL THAT HAVE ENJOYED THEIR FRIENDSHIP. ENJOY THE MEMORIES.
02-05-2016
Jackie Walker OConnor
I am very sorry to hear of Betty's passing. She was my high school friend, and we shared many good times together. My thoughts and prayers are with your family.
02-05-2016
Susan Correll Womack & Betsy Womack Smelsr
Thoughts and prayers are with you and Adrian and the boys! They will always remember "Birdie". Love you much, and you will always keep these memories with you.
02-04-2016
J.Shannon Zukas
Thoughts and prayers for you and your family.
02-04-2016
Dr. James Harrison
May you as a family find comfort in "The God of all comfort" in this sorrowful time in your lives. Jesus said that He would not leave us, nor forsake us. Draw near to Him to find refuge.
02-04-2016
Paul and Debbie Masters
Dear Family, Our thoughts and prayers are with you at this time. We remember the good times of attending church with Betty. May God Bless You.
02-04-2016
Teresa & Phyllis Wexler
Sending deepest condolences, many prayers and much love to you and your family during this time of sorrow!
02-04-2016
Anna Dickison
Betty's mother and my father were first cousins. We went to high school together at Sulphur Springs. My sympathies go to her family.
Dillow-Taylor is a third generation family-owned business...established in 1929
---
Dillow-Taylor Funeral Home and Cremation Services
P.O. Box 98, Highway 11-E, Jonesborough, Tennessee 37659
Office: 423.753.3821 Fax: 423.753.7409

Hours of Operation:
Monday - Saturday: 8am - 5pm
Sunday: 12pm - 4pm
---