01-24-2016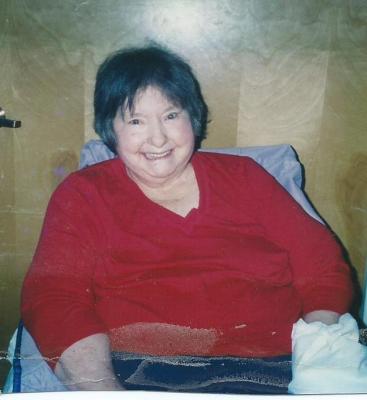 SERVICE SCHEDULE

Ms. Willie Kate "Bill" Mitchell, age 75, went home to be with the Lord Sunday, January 24, 2016 at the NHC Healthcare Center.
Ms. Mitchell was born in Greene County and was the daughter of the late Bruce & Daisy Mitchell. She was also preceded in death by a brother, Howard Mitchell, great-niece, Keri Kyker and a sister-in-law, Linda Mitchell.
She was a member of Faith Tabernacle of Johnson City. She loved the Lord and loved to worship. She enjoyed going on outings with her family, especially the Apple Festival.
Ms. Mitchell had worked at Grady's Dry Cleaners and enjoyed sewing in the past.
Survivors include one son and daughter-in-law, Mike & Lori Mitchell, Jonesborough; grandchildren, Lindsey Brooke Mitchell and fiancé, Logan Shreve, Columbus. OH, and Kayla Dearstone and husband Aaron Dearstone, Johnson City; sister and brother-in-law, Ethel Jane Mitchell Cox & Travis "Tab" Cox, Limestone; brother, Harold Mitchell, Johnson City; sister-in-law, Faye Mitchell, Jonesborough; nieces, Carol Mitchell and Kellye Shelton; nephew, Allen Mitchell, and great-nephews, Travis Kyker and Jacob Mitchell.
Willie had many special friends including, Pama Phillips, Michael Phillips, Nancy Feezell and the staff of NHC Healthcare, especially everyone on station three, that loved and cared for her during her extensive stay there.
Funeral services will be conducted 7:00 pm Wednesday, January 27, 2016 at the Dillow-Taylor Funeral Home with Pastor Mike Lusk officiating. The family will receive friends from 5:00-7:00 pm Wednesday prior to the service.
Interment services will be conducted 11:00 am Thursday, January 28, 2016 at Maple Lawn Cemetery.



Would you like to leave an eulogy or condolence for Willie Kate "Bill" Mitchell? If so, simply click HERE
EULOGIES & CONDOLENCES
01-28-2016
Ron Satterfield
I remember Willie from the 60s at Faith Tabernacle Church. She always seemed to have a smile. The Satterfield family - Ron, Jack, Bob, and Carolyn - send our condolences and prayers during this difficult time.
01-27-2016
Donna Coomes
Mike & Lori - I am so sorry for your loss. Keeping you and your family in my prayers.
01-27-2016
Teresa Jackson
Lori, You and your family are in my thoughts and prayers. Love, TJ
01-27-2016
Phillip Taylor
I am thinking of your family during this time of loss. May God bring you comfort and peace now and in the days to come.
01-25-2016
Leigh & Randy Haun (Megan & Jake)
One of the sweetest ladies that we have ever encountered in our lifetime. If every woman could love her son the way that she did, the world would be a much better place. I know that she will be missed greatly, she was truly an angel even here on earth. We love you Mike!!!
01-25-2016
Amy webb
I went today too see willie that's how I knew she passed away. I use to be a patient there at nhc me and her was buddies. I loved her so much she was my best friend and she was such a blessing to me.I'm so sorry for your loss.
Dillow-Taylor is a third generation family-owned business...established in 1929
---
Dillow-Taylor Funeral Home and Cremation Services
P.O. Box 98, Highway 11-E, Jonesborough, Tennessee 37659
Office: 423.753.3821 Fax: 423.753.7409

Hours of Operation:
Monday - Saturday: 8am - 5pm
Sunday: 12pm - 4pm
---