12-12-2015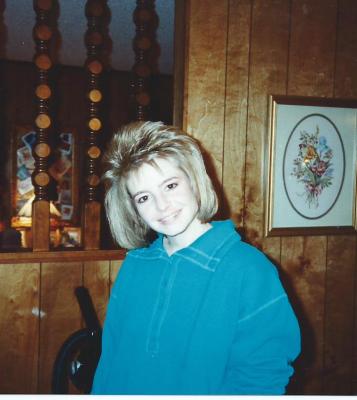 SERVICE SCHEDULE

Mrs. Sara Louise Saults Dykes, Limestone, age 51, passed away Saturday, December 12, 2015 at the Johnson City Medical Center.
Mrs. Dykes was a Washington County native and the daughter of Wilbert Sault and the late Louise Hensley Saults. She was also preceded in death by her father and mother-in-law, Dale and Ruth Dykes.
Sara was a homemaker and enjoyed her flowers, gardening, doing crafts and decorating.
She was a member of Pleasant Grove Baptist Church.
Survivors including her father are her husband of 33 years Sharrell Dykes, brother Richie and wife Robin Saults, nephew Seth Saults, step-mother Jelayne Saults, several uncles, aunts, nieces and nephews, and her dog "Princes Sweet-Pea".
Funeral services for Sara will be Tuesday December 15, 2015 8:00PM at Dillow-Taylor Funeral Home with Rev. Jack Dykes and Rev. Charles Morgan officiating. The family will receive friends from 6:00-8:00 PM prior to the service.
Graveside services will be 11:00 AM Wednesday, December 16, 2015 at Pleasant Grove Cemetery. Pallbearers will be Jeff Jenkins, James Brown, Seth Saults, Ronald Dykes, Brandon Wise, and Mike Adams.



Would you like to leave an eulogy or condolence for Sara Louise Saults Dykes? If so, simply click HERE
EULOGIES & CONDOLENCES
12-16-2015
Mary and Robert Turner
May you feel God's loving arms around you during this difficult time. Your family is in our thoughts and prayers. Love, Mary and Robert
12-15-2015
David and Sandra Holt
Our hearts and prayers go out to each one of you at this time. We are sorry that you have lost such a loving, kindhearted lady but the good news is that Jesus is coming soon to put an end to all of this! It will be a happy day for those who believe. We look forward to being your neighbors in heaven! Love and Prayers, David and Sandra Holt and family.
12-15-2015
William
I would like to send my prayers and love to the family of Sara. She will be missed by all that knew and loved her.
12-15-2015
Lisa Jones Hodge
So sorry to hear about Sara. She and I were classmates at DCHS. She was always so sweet and had a kind way about her. Her family is in my thoughts and prayers.
12-15-2015
Vicki Cannon
I will miss Sara's sweet smile and gentle spirit. I am so sorry I cannot be there tonight, but know that you and your family are in my thoughts and prayers, Sharrell.
12-14-2015
Donald Finley
So sorry to here about your wife. God bless you and your family!! God Bless, Don Finley
12-14-2015
Sonny & Rita (Dykes) Baines
Sharrell, Words cannot express how sad I am to learn of Sara's passing. She was always so sweet to me whenever I saw her. I know she has had a rough time with her health and remember when she was in the ICU back several years ago at the same time my husband was. You and I sat and talked for a good while. I know your heart is sad but may you find peace knowing she no longer suffers and you will one day be rejoined with her once again in heaven. She is definitely in good hands with Daddy, Uncle Dale and Aunt Ruth and all those that have passed before her and they will take good care of her. You are a great cousin and we love you. God Bless. Rita & Sonny
12-14-2015
Eileen Zoellner, JCPD Chaplain
May our Lord bless and comfort you and your family during this time of grief and may He give you the comfort and peace that you seek. Please accept my heartfelt condolences to you and your family. Rest in peace dear Sara, rest in peace. I am just a call away if you need anything.
12-14-2015
larry, Dianne, Brian Cousin
We send our deepest condolences. Wish we could be with you at this time when family is everything, but know we love you. Larry Cousin
Dillow-Taylor is a third generation family-owned business...established in 1929
---
Dillow-Taylor Funeral Home and Cremation Services
P.O. Box 98, Highway 11-E, Jonesborough, Tennessee 37659
Office: 423.753.3821 Fax: 423.753.7409

Hours of Operation:
Monday - Saturday: 8am - 5pm
Sunday: 12pm - 4pm
---