11-11-2015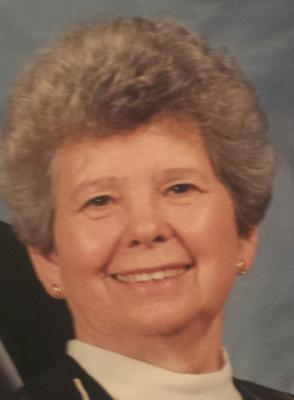 SERVICE SCHEDULE

Mrs. Helen Jean Miller, 81, Jonesborough, passed away Wednesday, November 11, 2015 at her residence with her family at her side.
Mrs. Miller was born in Kingsport, Tennessee and daughter of the late Lark & Mary Hurst Castle. She was also preceded in death by her husband, Jack Carson Miller.
She was a longtime member of Trinity Baptist Church. She also taught Sunday school at First Baptist Church of Jonesborough.
Mrs. Miller was a Supervisor for Sperry-Univac for 35 years.
Survivors include two sons, Dennis Jay Miller, Bluff City and Jeff Miller (Laurie), Jonesborough; brothers, Don Castle and Larkin Castle, both of Kingsport and Darrel Castle, Memphis; sister, Judy Castle, Johnson City; grandchildren, Brad Miller, Jessica Hopper, Chris Miller, Rachel Miller and Alyssa Miller; sister-in-law, Athene Smith, Jonesborough; and several nephews and nieces.
Funeral services will be conducted 6:00 pm Saturday, November 14, 2015 at the Dillow-Taylor Funeral Home with Dr. Mark Harrod officiating. The family will receive friends from 4:00-6:00 pm Saturday prior to the service.
Interment services will be conducted 2:00 pm Sunday, November 15, 2015 at Fairview Cemetery.
Pallbearers will be Scott Crain, Chris Miller, Brad Miller and Scott Castle.



Would you like to leave an eulogy or condolence for Helen Jean Miller? If so, simply click HERE
EULOGIES & CONDOLENCES
11-14-2015
Jerry&Donna Whitaker
Jeff & family .We are sorry to hear about your mother passing. We will not be able to attend the service because of work. You and your family are in our prayers. Your friends Jerry & Donna Whitaker.
11-14-2015
Thelma Murray Galloway
Dear Family & Friends, My deepest condolences to each of you during this time of grief. May the precious memories help ease your broken hearts and help heal.Our families have known one another through out childhood spilling into our adult lives and we thought the world of Jean. Though her soul has departed this earth please know that our conversations and the stories told will indeed keep her spirit alive,she touched our hearts and left a lasting impression in which we smile as we reminisce. My prayers and thoughts are with you.
11-12-2015
Shari Jackson
What a lovely picture, with her beautiful smile. I will miss her very much, as will my family.
Dillow-Taylor is a third generation family-owned business...established in 1929
---
Dillow-Taylor Funeral Home and Cremation Services
P.O. Box 98, Highway 11-E, Jonesborough, Tennessee 37659
Office: 423.753.3821 Fax: 423.753.7409

Hours of Operation:
Monday - Saturday: 8am - 5pm
Sunday: 12pm - 4pm
---