10-16-2015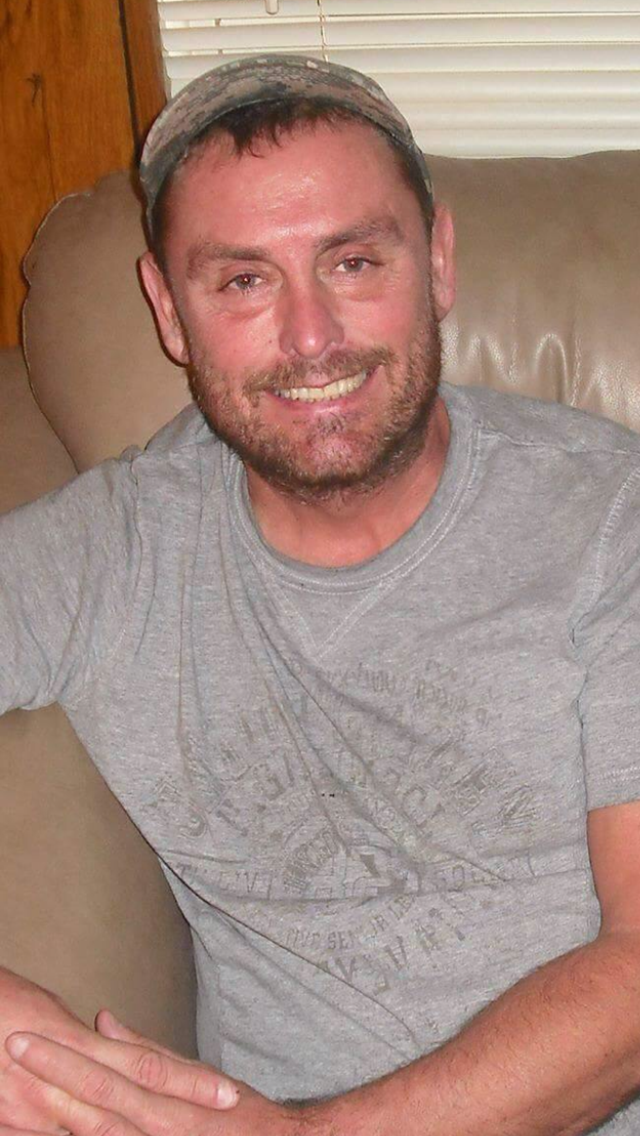 SERVICE SCHEDULE

Mr. James "Joe" Rogers, age 49, Erwin, passed away Friday, October 16, 2015 at his residence.
Mr. Rogers was born in Erwin, TN and son of the late Charles "C.V." & Carrie Story Rogers. He was also preceded in death by a brother, Roland Rogers.
He was a member of Grace Baptist Church in Erwin.
Mr. Rogers was a Carpenter/Roofer at ETSU. He loved spending time with his family, hunting, and grilling out. He was a hard worker and never complained.
Survivors include his wife, Michelle Rogers; son, Joseph "Chase" Rogers; daughters, Kristin Rogers Stalcup (Stacey) and Hayli Rogers; Coty Harris, whom he called his son; granddaughter, Twyla Harris; brothers and sisters, Russell Rogers (Marylee), Randy Rogers (Debbie), Wanda McMullen (Gary), Alice Sparks, Caroline Tipton (Maynard), Margaret Stockton (A.J.) and Marline Tolley (Bill); mother-in-law, Lana Harris; brother-in-law, D.J. Harris; special friend, Chris Arrowood (PeeWee); and several nephews and nieces.
Graveside services will be conducted 4:00 pm Sunday, October 18, 2015 at Bumpass Cove Cemetery with Rev. Travis Holloway officiating.
Pallbearers will be Rodney Casey, Marvin Stockton, Josh Callahan, Tim Rogers, Travis Rogers, Chris Arrowood, Mitch Watts and Ernie Rogers. Honorary pallbearers will be Randy Rogers, Russell Rogers, Frank Rogers and T.A. Wilson.
In lieu of flowers donations made be made to St. Jude's Research Center, 501 St. Jude's Place Memphis, TN 38105.



Would you like to leave an eulogy or condolence for James "Joe" Rogers? If so, simply click HERE
EULOGIES & CONDOLENCES
11-22-2016
Michelle Rogers
I love you and miss you so very much. Can't wait until we are together again.
10-24-2015
Your Nieces and Nephews
You were a baby brother and you were a big brother . You took alot of time with us and we are forever changed because of your sudden passing. Things will never be the same. We love you and will miss your smile and advice. We will not forget you nor will we ever forget the memories with you.
10-20-2015
Love you baby brother Marlene
I will miss your handsome face and beautiful smile, you will always be in my heart...My heart is broken
10-19-2015
Mom and Kids
WE LOVE YOU DAD. YOU WILL ALWAYS BE WITH US.
10-19-2015
Kelly Clapp & Joyce Clapp
So sorry for your loss. Kelly was out of town this weekend. we will keep Joe in our prayers & Kelly will contact you when returns. If there is any thing you need or any needs to be done,please call me. 423-743-4023. Joyce
10-19-2015
Kathy Rogers Bennett
I am residing in FL. and can't make it to services. My heart is sad to hear of the passing of my cousin Joe. My God comfort your family.
10-19-2015
Constance Alexander
My thoughts and prayers are with you and your family.
10-19-2015
Mike Wilson
Joe and I worked together, and hunted mushrooms,and went camping down on the river together -( the last few yrs). I met you and your family ,while camping....I considered him a true friend. I will miss him. My prayers go out to you and your family...... May God be with you in your time of need.
10-18-2015
Ann Francis
so sorry the whole family is in my prayers
10-18-2015
Jeanette Miller
Kristen,Stacey and Family, I am so sorry for your loss. You will be in my thoughts and prayers. Kristen if you need anything please don't hesitate to call. Love you.
10-18-2015
Julie Blevins
Michelle, I am so very sorry for your loss. My prayers are with you and your family during this time.
10-18-2015
Julie Blevins
Michelle, I am so very sorry for your loss. My thoughts and prayers are with you and your family during this very difficult time. Julie
10-18-2015
Sharon Huskins Robinson
I am so sorry for your loss. Joe was like a brother To me. We grew up together. We all played together. Joe and his family was my second family. I love them all so much.Joe will be missed very much. If there's anything I can do please call me.4234303377 I will miss my brother n friend "lil Joe" Love you all Sharon H.Robinson
10-17-2015
Darleen Wilson-Peters
I am so sorry for your loss. Joe was a good man. My prayers are with the whole family
10-17-2015
Shirley harrid
10-17-2015
Shirley harris
I have know the Rogers ever since I was 10 years old.I spends many night with Wanda, Alice Margert, & Carolyn. I think Joe may have been a Baby then. But I have seen him coming Home from work .I have never heard any thing bad about him. I grew up with the Rogers girls .Joe always have a smile on his face. And was a very likeable person .He will be missed by many
10-17-2015
Reverend Travis Holloway
Your family havce allways been dear to my heart. Words cannot begin to express the sorrow I feel for you Michelle and the Kids as well! Gail and I are here if you need us! God Bless
10-17-2015
David Casey and family
We were so sorry to hear what happened. We will be praying for the whole family. God be with you all!
Dillow-Taylor is a third generation family-owned business...established in 1929
---
Dillow-Taylor Funeral Home and Cremation Services
P.O. Box 98, Highway 11-E, Jonesborough, Tennessee 37659
Office: 423.753.3821 Fax: 423.753.7409

Hours of Operation:
Monday - Saturday: 8am - 5pm
Sunday: 12pm - 4pm
---