10-13-2015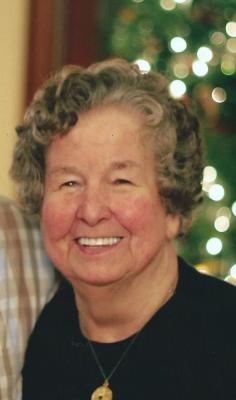 SERVICE SCHEDULE

Mrs. Eloise Hammitt Archer, age 78, Jonesborough, passed away peacefully Tuesday, October 13, 2015 at the Franklin Woods Community Hospital following a brief illness.
Eloise was a lady of grace and a strong-willed survivor of a tragic automobile accident at the age of 37. Her courage, faith, and determination helped her endure challenges and she always expressed gratitude for each day she was given.
Her wonderful and beautiful smile will always be remembered, along with her kindness, and wittiness, and the sound of her joyful laughter.
She is survived by her husband of 60 years, Lester Archer and her two daughters, Vicky Laxton-Weil and Darlene Ranegan (Joe); six grandchildren, Adam Glass (Stephanie), Brittney Pearson (Bryan), Tyler Laxton, Daniel Brant (Erin), Will Brant, Joseph Ranegan; two great-grandchildren, Jack and Kelsey Pearson; she is also survived by two brothers, Charles Hammitt (Linda) and Beau Hammitt (Lionel); four sisters, Lula Gray (Gale), Nelta Cox, Pat Jamerson (Gerald), and Famah Fenner (Jim); several nephews and nieces; surviving in-laws, Raymond Archer (Betty), Joyce Gregg (Ed), Earldene Anna Littleton (Dee), Howard Archer (Ann), Herman Archer (Billie), Paul Archer (Teressa ), Vickie Hammitt, and Eva Mae Archer.
Pre deceasing her were her parents Rufus Hammitt and Alpha Ingle Hammitt, two infant daughters, Rebecca and Angela, and brother Rufus Hammitt, Jr.
She was a member of Sulphur Springs Baptist Church.
The family will receive friends from 4:00 pm to 7:00 pm on Thursday, October 15, 2015, at Dillow-Taylor Funeral Home, Jonesborough.
A private burial will be at a later date.
We want to thank our family for all the love and support in these last weeks, and for the wonderful staff of Johnson City Medical Center 3rd & 4th floors, 2nd floor of Franklin Woods Community Hospital and Johnson City Medical Center Hospice.
In lieu of flowers, memorials may be made to Sulphur Springs Baptist Church 1567 Gray Sulphur Springs Rd. Jonesborough, TN 37659.



Would you like to leave an eulogy or condolence for Eloise Hammitt Archer? If so, simply click HERE
EULOGIES & CONDOLENCES
10-18-2015
Regina Shipley Hill
My thoughts and prayers are with Darlene Ranegan and Vicky Laxton-Well today. May God be with you two and your families at this sad time. With heart felt sympathy. Sincerely, Regina Shipley Hill
10-15-2015
CAROLINE HENRY
Deepest Sympathy to the family. I have known Vicky for several years, and Vicky always spoke so lovingly of her mother. May GOD bring comfort and reassurance to all the family during their time of loss.
10-15-2015
Jean A. Campbell and Judith Plumb
Our prayers are with all of the family as we share this pain with you. She was a sweet lady. love, Jean and Judith
10-15-2015
Kevin and Sherry Holtsinger
Darlene & Joe: You and your family are in our thoughts and prayers during this difficult time. Isaiah 41:10-- Kevin & Sherry Holtsinger
10-14-2015
Sherry Littleton-Day
Thoughts and prayers going out to Uncle Lester, Vickie and Darlene. My dear sweet Aunt Eloise you will be missed so dearly, just a few weeks ago, when I saw you, you looked beautiful and little did we know would be the last time, but your memories and smile will always be with us.
Dillow-Taylor is a third generation family-owned business...established in 1929
---
Dillow-Taylor Funeral Home and Cremation Services
P.O. Box 98, Highway 11-E, Jonesborough, Tennessee 37659
Office: 423.753.3821 Fax: 423.753.7409

Hours of Operation:
Monday - Saturday: 8am - 5pm
Sunday: 12pm - 4pm
---