10-04-2015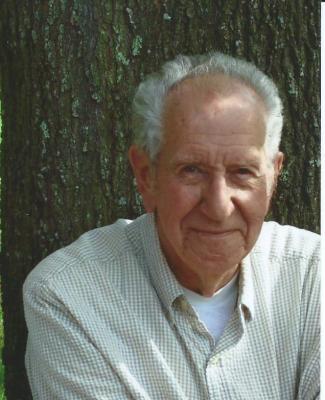 SERVICE SCHEDULE

Mr. Billy Mack Byrd, age 84, Jonesborough, went to his heavenly home to be with Jesus, Sunday October 4, 2015 at Johnson City Medical Center.
Mr. Byrd was a native of Washington County born in the Jim Town community to the late Bernie and Sophie Decker Byrd. He was also preceded in death by his wife of 63 years whom he dearly missed, Betty M. Byrd, two brothers, Fred and Bernie Jr, and a sister Ila Mae.
Mr. Byrd was a member of Buffalo Ridge Baptist Church for over 50 years.
Mr. Byrd retired from AFG Glass in Kingsport where he was known as "Big Bird".
Billy enjoyed woodworking, camping, working puzzles and spending time with his family, especially Lily and his neighbors.
Survivors include his son, Charles "Eddie" Byrd, Gray; two daughters, Rita Byrd, Kingsport and Jill Byrd Cavin (Larry), Jonesborough; two grandchildren, Laura Cavin Wiggs (Lee), Gray and Preston Corey Byrd, Kingsport; one great-granddaughter, Lily Elizabeth Wiggs, Gray; sister Ruth Linkous, two brothers Guy Byrd and Kenneth Byrd (Peggy) and several nieces and nephews.
Funeral services will be conducted 6:00 PM Thursday, October 8, 2014 at the Dillow-Taylor Funeral Home with Dr. Jody Jenkins and Dr. Gene Lasley officiating. The family will receive friends from 4:00-6:00 PM Thursday prior to the service.
Entombment services will be conducted 11:00 AM Friday, October 9, 2014 at Monte Vista Burial Park. Pallbearers will be family & friends.
Memorial donations may be made to Buffalo Ridge Baptist Church 197 Suncrest St. Gray, TN 37615.



Would you like to leave an eulogy or condolence for Billy Mack Byrd? If so, simply click HERE
EULOGIES & CONDOLENCES
10-17-2015
Mercer and Eleta Moye
Forgive us for taking so long to send condolences, but we have been thinking of you often and praying for the family. We trust all is well with you and that you are resting in the peace of our sweet Saviour. I can not imagine how hard it must be. I know you must miss them so much. Knowing we will see them again is so comforting. God bless you all!
10-12-2015
Bill and Diane Monroe
Eddie, Rita, Jill, Ruth, Guy, Kenneth, and extended family. Know that you are all in our thoughts and prayers. Billy was a fantastic man and we enjoyed our visits with him immensely. We have many pieces of his woodworking that we cherish. We remember his soft spoken voice and his many great stories. God Bless you all.
10-07-2015
Ronald.L.Anderson@Hotmail.com
Eddie, Rita and Jill, Very sorry to hear of the passing of your Dad. May your memories bring you comfort at this time. Ronnie
10-07-2015
Doris Ann Monroe
My deepest sympathy to my cousins, Eddie, Rita and Jill. Uncle Billy was a wonderful guy. He always made us laugh! My Mom thought the world of him and now they are catching up together. May he and your sweet Mom be forever together in God's kingdom.
10-06-2015
Linda Winegar Greenwell
Prayers for you all....Eddie, Rita, Jill and your families. Take comfort in knowing your parents are now together for eternity and you can be with them one day. Cherish the special memories you have and may God give you comfort and peace through your loss.
10-06-2015
Skip and Delores Underwood
I am Ray Sells's sister and our prayers are said for Bills family . Ray was going to take me down to meet Bill but then this happened ,Ray thought the world of Bill . Ray brought a clock that Bill had made and gave it to me. It is so pretty . It be in my living room for everyone to see. May God be with his family and help you all during this time ... Delores Underwood
10-06-2015
Kathie Mosier Webb
Eddie, Rita, and Jill, I am so sorry for your loss. I loved Uncle Billie very much. Came home just recently and saw him briefly at Mom and Dad's. We always parted with a big hug. I will miss his gentle spirit and sweet smile. My prayers are with you. Love to all. Kathie
10-05-2015
Tonia Ferguson
So sorry for your loss. Mr.Byrd was a very sweet man. He is now with his sweet wife. Love and prayers to Rita,Eddie and Jill.
Dillow-Taylor is a third generation family-owned business...established in 1929
---
Dillow-Taylor Funeral Home and Cremation Services
P.O. Box 98, Highway 11-E, Jonesborough, Tennessee 37659
Office: 423.753.3821 Fax: 423.753.7409

Hours of Operation:
Monday - Saturday: 8am - 5pm
Sunday: 12pm - 4pm
---